Spring into new skin – the perfect treatment for a new season
---
If you love the look and feel of freshly exfoliated skin, you should talk to your endota therapist about hydro-microdermabrasion. Hydro-microdermabrasion uses a specialised machine which invigorates the skin's surface, lifting and removing dead skin cells and congestion. What you're left with is renewed smooth skin that is glowing and refreshed.
This treatment intensely resurfaces and is suitable for use on a range of skin conditions. This involves a vacuum pressure tool that lifts the skin to a diamond tip as it glides across to gently but effectively exfoliate and remove spent skin cells, whilst simultaneously infusing moisture.
endota Education Expert, Kimberley Duck says that hydro-microdermabrasion is a dramatic step up from at home exfoliation treatments. Each session begins with a thorough skincare analysis aimed to identify and tailor to your specific skin needs.

Next stop – smooth skin
---
When the custom treatment path has been determined, your sensory journey into relaxation begins with some deep breathing, endota's Signature blend essential oil, and a warm Jade stone placed on your solar plexus to ground and centre.
"The skin is cleansed with products from the New Age range, packed with AHA's and peptides to reduce the appearance of fine lines, smooth wrinkles and leave you with younger looking skin. These products start to break down the intercellular glue holding dead cells together, followed by a manual exfoliation to remove surface cell build up and prepare the skin for the hydro-microdermabrasion," Kimberley says.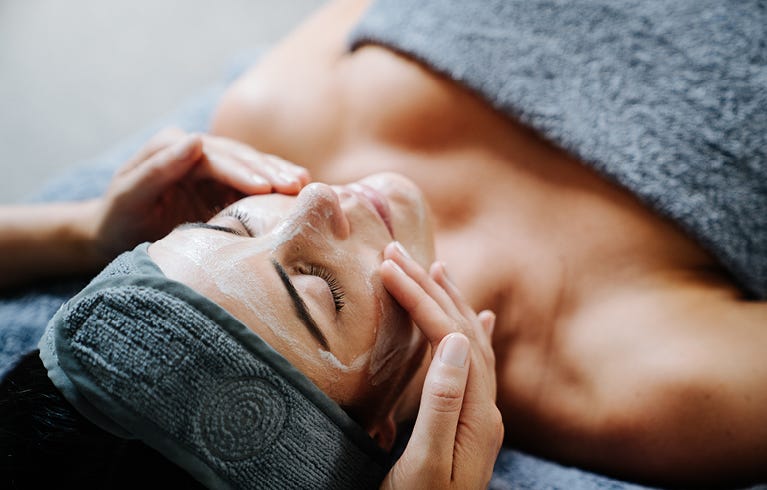 "It is a perfect facial for those that are prepping their skin for an event or looking for deep cleansing and to smooth out rough texture," Kimberley says.
"The hydro-microdermabrasion involves the use of machinery with an abrasive tip combined with vacuum suction to invigorate the skins surface, lift and remove deep dead skin cells and congestion. Simultaneously a cooling solution is infused onto the skin which can help to alleviate any redness."
Your face is then treated to a relaxing facial massage with moisturising nourishment from our multi-vitamin treatment oil where argan, avocado and rosehip oil refresh the appearance of skin and soothe redness and irritation. The treatment is completed with a serum, moisturiser, eye care and 50+ SPF to lock in moisture and protect.
Hydro-microdermabrasion stimulates the wound healing response sending more oxygen, blood and collagen to the skin so results continue well after the treatment. However, this means some people may experience redness, slight itching and mild flaking as cell turnover has been accelerated.
This treatment is ideal for dull, congested skin. It can also help with mild acne and rough skin. Dry or dehydrated skin will benefit from the removal of flaky dead cell build up with the added infused solution during the treatment.
"The skin is given a full refresh and clean so you will walk out glowing and feeling super smooth." Kimberley says.