New Age in skin care: customised facials target individual concerns
---
Facials are a great way to look after and nourish your skin and address its biggest concerns. But not all facials are created equal. Some are developed to give your skin a boost of nourishment and hydration, and restore a sense of calm. While others are more targeted to tackle your specific concerns and focused on delivering results.
endota's New Age Customised Facial is a results-based treatment that uses new technology to detect imperfections and infuse active ingredients into your skin for transformative results.
"It's an intense treatment, that also keeps relaxation in mind," says Sarka Straka, endota Victorian Educator.
What's in a New Age Facial?
---
Addressing individual concerns starts with understanding them.
"We use our BT Analyse tool and skin scanner, at the start of your treatment. It helps uncover any hidden imperfections like sun damage, dryness or oil build up, blocked pores or pigment disorders. This helps our therapists customise your facial to target concerns specific to your skin," Sarka says.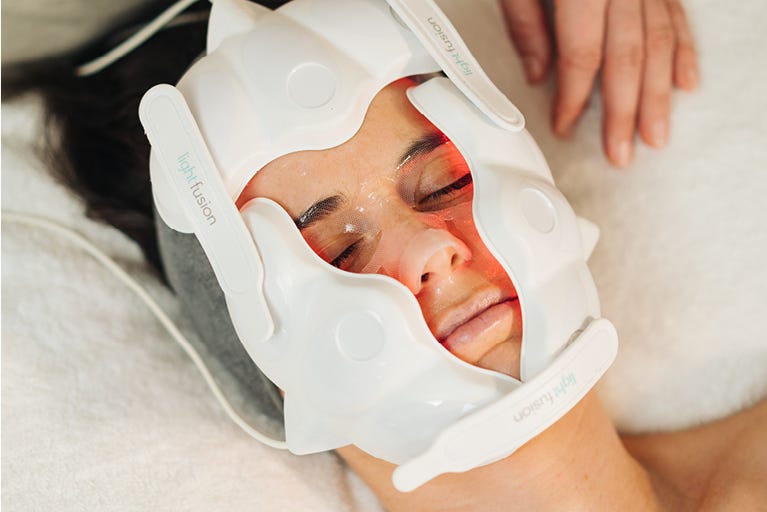 Addressing individual concerns starts with understanding them.
A relaxing deep cleanse is followed by exfoliating dead skin cells. Your eyes and lips are then nourished and refreshed with a product tailored to your skin concern.
"Your therapist will then infuse a New Age serum that's right for your skin concerns with a BT micro tool. Your facial is wrapped up with moisturiser and sunscreen to protect your skin," says Sarka.
All of this in just 30 minutes. You also have the option to add on any high-performance treatment like Hydro-Microdermabrasion, LED or Electro-Mesotherapy - and experience the ultimate 'me time' for your skin.
If you're after a facial that ticks both your skin and relaxation goals, the 60-minute New Age Customised facial does just that.
"You get a more in-depth analysis of your skin, plus we melt the stress away with a relaxing face, foot and scalp massage," Sarka says.
What's in a New Age Facial?
---
The New Age Customised Facial's targeted and customised approach means your skin gets the attention it needs. Whether its pigmentation, wrinkles and fine lines or hydration concerns, your skin will be transformed to look and feel its best.
Infused active ingredients in the powerful New Age serums leave your skin luminous, dewy and glowing, and you'll feel replenished and relaxed.
"Taking care of your skin regularly is important. We have one costume for life – our skin – so we need to know how to look after it," Sarka says.
After your treatment your therapist will walk you through how to maintain results at home and keep feeling your best.

But as a basic guide, Sarka recommends that you:
Cleanse and exfoliate regularly
Use a high potency serum to feed your skin
Moisturise to keep your skin hydrated
Always use sunscreen to protect your skin