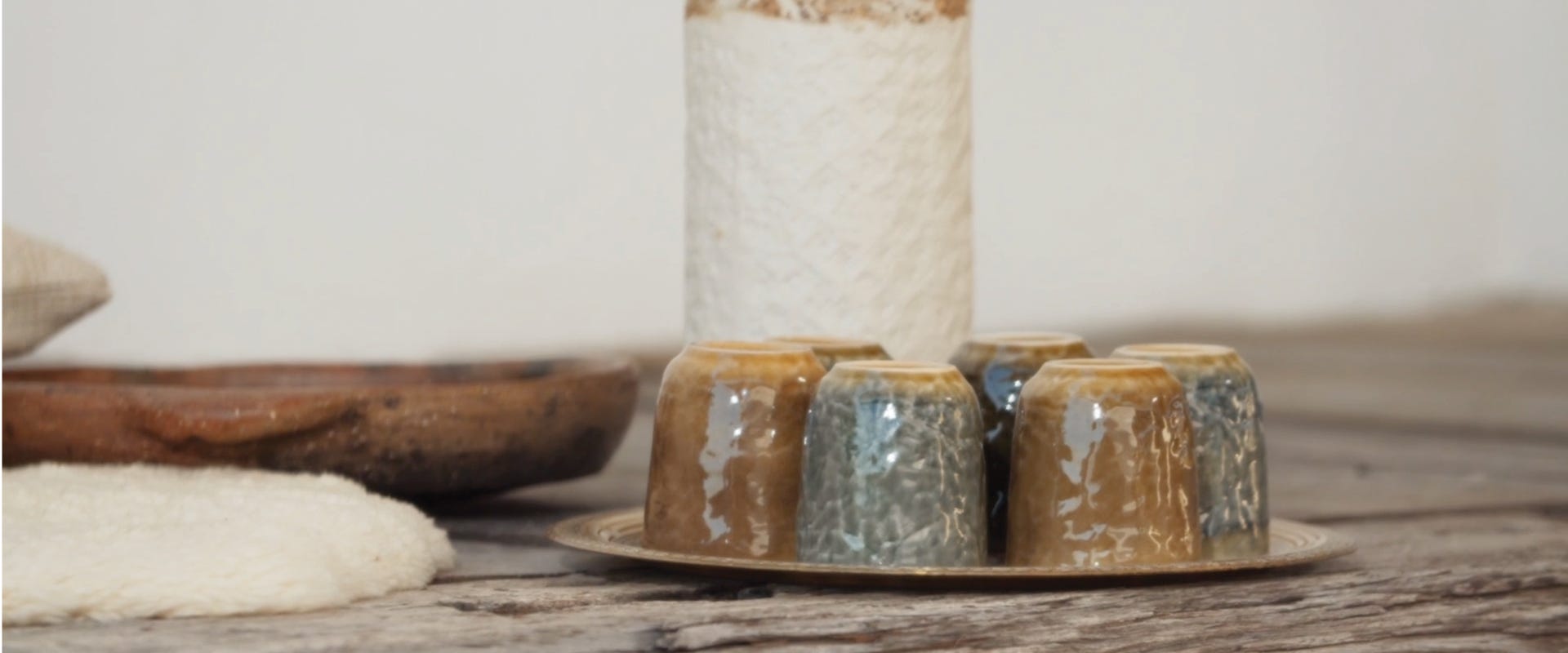 Cacao ceremonies:
Connecting science with spirituality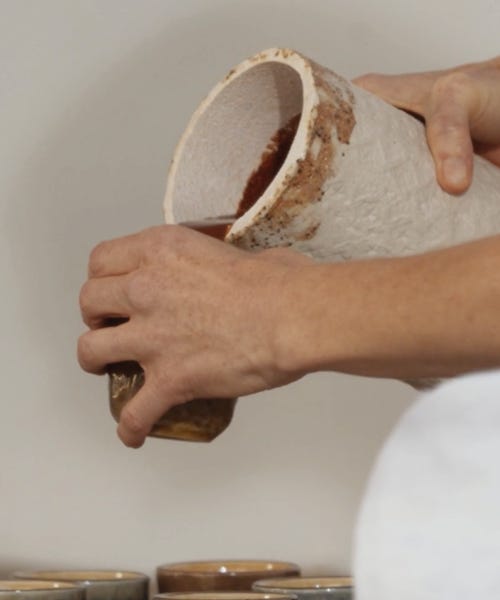 Origins of the ancient ritual
Cacao's scientific name is Theobroma cacao which translates to 'food for the Gods'. Cacao ceremonies have been used for thousands of years as a form of healing and connecting with the divine, which celebrates the ancient art and ritual of drinking ceremonial chocolate.
These ceremonies are most often attributed to the Aztec and Mayan cultures dating back some 5,000 years, but they served different purposes for different cultures including medicinal, nutritional, and as offerings to the gods and as a divine gift. Ceremonial cacao comes from a rare bean that makes up less than 5% of the world's cacao production – the criollo bean. It is the same bean that was used by the ancient cultures in their ceremonies. It was even used as currency, valued higher than gold.
The sacred cacao
Cocoa (the stuff most of us use to make hot chocolate) and cacao both come from the cacao bean. The main difference is how they're processed. Cocoa is made by roasting the cacao bean at a high temperature and supplementing with additives to overcome its bitterness. When the bean is roasted at a low temperature and has minimal or no additives it produces cacao – a more nutrient rich and flavourful version of chocolate.
Cacao is rich in flavanols, a plant compound that has been shown to lower blood pressure, improve circulation to the brain and heart and is full of antioxidants. It also has lots of potassium which can reduce inflammation in the body and stress on cells and contains iron and tryptophan – an amino acid your body uses to make serotonin and help you relax.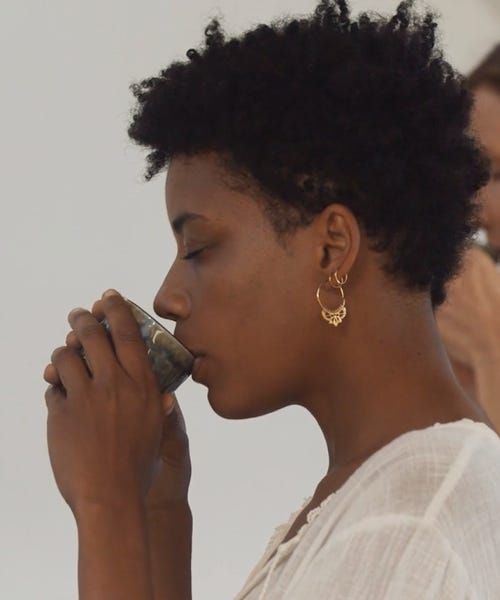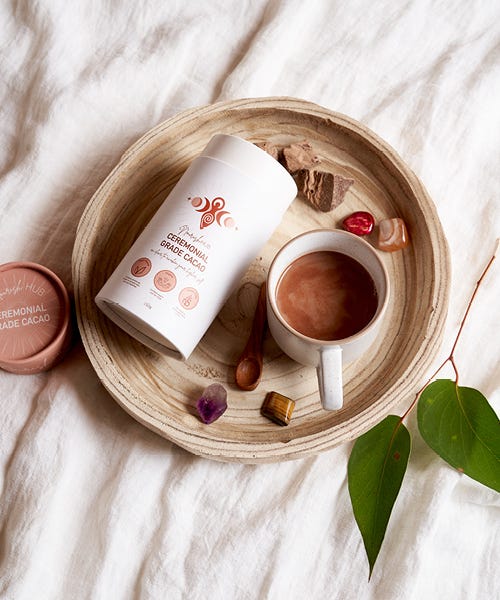 about
Modern cacao ceremonies
Today the ancient ceremonies are used to help you connect with yourself and set intentions – and are especially helpful when guiding us through times of transition. Cacao ceremonies can be most powerful when aligning with the arrival of a new season, allowing us to incorporate nature's sacred energy within ourselves as we anchor into the cyclical rhythms of the Earth.
The most significant events of the solar year are the solstices and equinoxes that signal the changing of seasons on Earth.
Times to align your cacao ceremony
---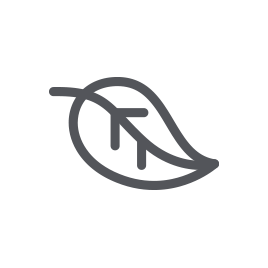 Autumn equinox
March 20, 2021 (Australia)
A time to set your intentions
Winter Solstice
June 21, 2021 (Australia)
A time to rest and reflect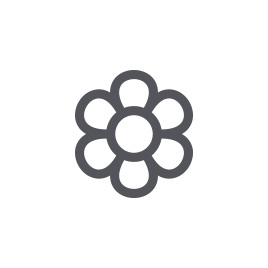 Spring equinox
September 23, 2021 (Australia)
A time to celebrate life and manifest our dreams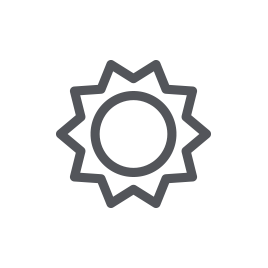 Summer solstice
December 22, 2021 (Australia)
A time to reflect on your personal growth
Cacao Preperation
---
Ingredients:
1 cup of water or your choice of milk
2tbsp or 20-30g of Cacao
Optional:
Sweetener of choice (pure maple syrup, honey, coconut sugar)
Dash of cinnamon
Maca powder
Chilli or salt
Method:
Place all ingredients in a pot on the stove on a low heat.

Stir until cacao is melted and all ingredients are combined (the longer you leave it on the stove, the thicker it will get).

Pour cacao into your favourite mug.

To experience creamy, well blended Cacao, we recommend using a blender that is safe for hot liquids or a handheld milk frother whilst the Cacao is still in the pot on the stove.
how to
Hold a cacao ceremony
It's important to remember that Ceremonial Grade Cacao is an ancient plant medicine and whilst it may taste similar to a generic hot chocolate, the spiritual and energetic properties of Ceremonial Grade Cacao are different to store-bought cacao powder.
The following outlines a basic structure for a personal Cacao Ceremony - meaning that this is something you can follow when you make a cup of Cacao at home. This outline involves steps that honour the history of cacao whilst allowing you to establish a moment of peace and connection, no matter where you are or how you're feeling.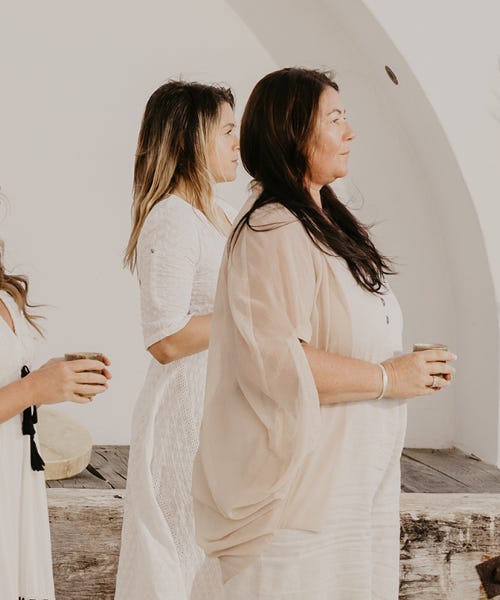 step 1
Set a sacred place
You can use candles, dim the lighting, burn incense, diffuse essential oils, whatever feels most sacred to you.
Close your eyes, hold the cup of Cacao up to your heart, take some deep breaths and focus on how you desire to feel after your personal cacao ceremony.
Once you have finished your cup of Cacao, allow yourself to truly bask in the experience of your personal cacao ceremony; allow any emotions, ideas and feelings to move through you and be physically, emotionally and spiritually present with yourself and your experience.
If you have time, enjoy some yoga, meditation, dancing, art or any other form of creative expression.
Search engine powered by ElasticSuite
[one]
account
unlocking your journey to
wellness and self-care
Sign-up free today and receive:
1. Guest access to endota Retreat, providing you with a range of online wellnewss classes.
2. Conveniently manage and book
treatments online.
3. Shop endota online, easily track purchases
or re-order your favourite skin care products.
4. Offers and specials delivered
directly to your inbox.
5. Save and access your Gift Card balances.

Welcome back
Continue your at-home wellness journey with an endota online account. Enjoy your convenience of shopping online, booking your next treatment or discovering a new stretch and meditation practice with our online retreat masterclasses.

Enter your email and password to sign-in:
Create New Account
The endota [one] account helps you manage your endota Retreat subscription, store and track your Gift Card balances, manage your endota Day Spa bookings and keep record of your online purchases.