January edition
How to keep summer skin cool & calm
Living in a country of extremes has its wonders, but with sweltering, melting days and long hot nights, there is no greater skin challenge than the Australian summer. We've put together some simple summer skincare ideas to keep your skin as naturally cool and calm as possible.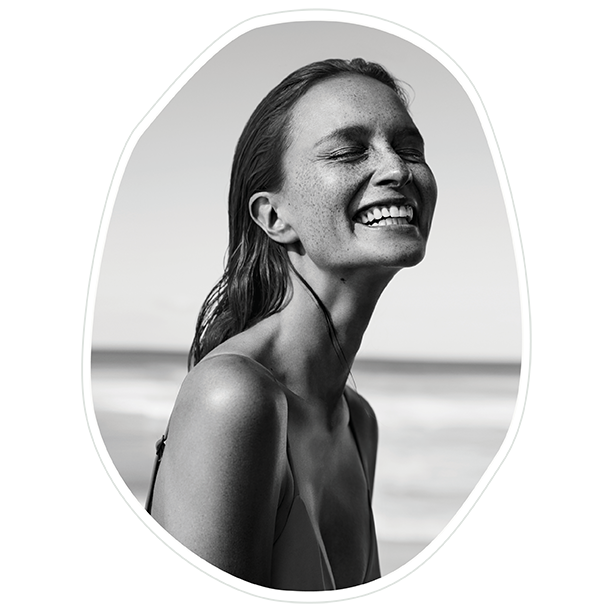 Take Cover
The Australian sun's rays are the strongest in the world, so adequate skin protection is non-negotiable. While we can see and feel the sun's power on hot and cloudless days, the sun can still do damage in overcast weather. That's why it is vital to apply a sunscreen with an SPF of 50+ several times throughout the day, especially in the morning. Some people forget that even the tops of their scalps can get sunburnt, so invest in a breathable straw or cotton hat and make it your new summer companion. Another way to ensure complete cover is to always carry a pocket umbrella. It is just as invaluable against the sun as it is against rain. As an ocean-loving nation, we need also need to be mindful that our skin can burn in water, so pack a waterproof sunscreen for those long days at the beach.
Keeping your Balance
Oil production is a natural part of the skin's regeneration process, but the summer heat can lead to sweating, excess oil production and a shiny complexion. Because our skin is producing more oil, our pores are more prone to clogging and dare we say it, breakouts. The first step in keeping your complexion balanced in summer is to introduce a pore-purifying cleanser to remove any sweat and grime that has accumulated over the course of the day. Once you're left fresh-faced, apply a lighter, oil-controlling moisturiser. If you're still finding skin out of balance, introduce a weekly charcoal mask to help to draw out impurities from deep below the surface. Try endota spa Organics™ Pore-Purifying Cleansing Gel, Balancing Facial Moisturiser and Charcoal Detox Mask.
Banishing the Breakouts
No matter how regularly we cleanse and treat our skin, some of us are unlucky to get the odd blemish or breakout during and after unavoidable heatwaves. Washing skin night and day in summer is a must, but be careful not to over wash or you could dry out the skin and further irritate your blemishes. Try not to cleanse the breakout area with your hands, as transferred oil and bacteria may exacerbate the problem. Instead, use a micellar water cleanser on a cotton pad to draw out impurities without the need to rinse. Remember, blemishes and breakouts are a form of infection. To treat and stop an infection, you need an antiseptic. Tea-tree oil is one of nature's most powerful antiseptics. It is so strong in fact that we don't advise applying it directly to the skin. Instead, add a few drops to a bowl of hot water and allow your skin to be infused by the medicinal steam. Try endota spa Organics™ The Easy Cleanse with micellar water and rose extract.
Keep It Cool
On those sweltering days, many of us head to the beach for relief and a dip in the ocean. While the ocean is good for the soul, swimming uses energy and causes perspiration. This heightens your body temperature so you only cool yourself down on the surface. If you really want to soothe and calm hot, reddened skin, run yourself a cool bath. Lying still in the cool, refreshing water will cause your core temperature to drop, relieving your skin from the summer heat. Adding a bath soak can also assist in the infusion of overall skin moisture. Cold water immersion can also stimulate blood flow and improve your circulation. Try endota spa Organics™ Mint and Macadamia Recovery Bath.
Mist Opportunities
Summer is the season for fun, festivities, beach-going and outdoor living. It is also air conditioner season. Many of us who work in offices, especially in the city, are subject to artificially-cooled environments. This can have a drying effect on the skin and body. Drinking plenty of water at your desk is essential to combat dehydration. Reapplying moisturiser over make-up and your existing moisturiser can cause pores to clog and overload skin with product. Instead, keep a facial mist on hand to spritz throughout the day. This can help balance the complexion and invigorate the senses. Try endota spa™ Balance Me Mist