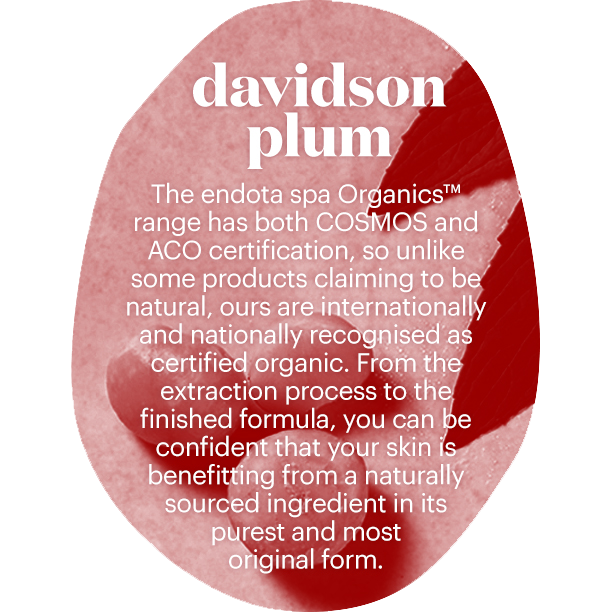 March edition
From source to skin: The healing power of Davidson Plum
We explore how to replenish skin from the outside in with a powerful, feature ingredient from the endota spa Organics™ range. This month we look at the intense healing power of Davidson Plum, a bush food delicacy from the tropical Australian rainforest.
What is Davidson Plum?
The Davidson Plum is a tree fruit found in the lush tropical rainforests of northern New South Wales. The dark purple fruit is native to Australia and is one a select group of native ingredients renowned for their skin healing powers. So potent are its healing properties, Davidson Plum can be found in multiple products across our endota spa Organics™ range.
How does Davidson Plum improve your skin?
Rich in vitamins, fruit acids and antioxidants, Davidson Plum is one of the ingredients in our endota Bio-Active plant complex. As an incredibly effective anti-ageing and healing solution, Davidson Plum can reduce the appearance of acne scarring and soften the look of fine lines and wrinkles. It also contains phenolic acids – these have an antioxidant effect on skin that's even stronger than vitamin E to heal UV damage and support collagen production for a noticeably brighter, firmer complexion.
Davidson Plum also contains a compound found in purple or dark red coloured super fruits which have been proven to promote skin elasticity through enhanced collagen and elastin production. As opposed to synthetically developed compounds, Davidson Plum is derived as a phyto-active compound suspended in its environmental form. While this sounds quite complicated, it simply means it is closer to your skin's natural make up than any lab-developed product. That's why your skin will welcome its presence and fully absorb the benefits. As always, endota spa believes in working with nature - not against it, for the heathiest and most harmonious possible complexion.