endota Rest & Restore Clove & Mint Recovery Balm
Dec 2019
4 Beauty Products To Reach For After a Workout
The must-haves missing from your gym bag
- By Chelsea Tromans, Marie Claire
---
You got up early and squeezed in a good, hard sweat sesh before work. Nice one! But now you have the tricky task of freshening up in a flash and getting through your work day without looking like a hot mess.
We know you wouldn't dream of heading to the gym without a deodorant or dry shampoo close by, but there are a few other key products you should always have in your gym bag to help you go from workout to work quickly. Don't worry, we've got you.


A muscle recovery balm

We get it: no pain, no gain. But when your muscles become so sore after an intense workout session that you can barely move, it's a total motivation killer. Not to mention, aching muscles can get in the way of simple everyday tasks, such as typing and walking up stairs. Muscle recovery should be taken seriously, and while stretching and staying hydrated help, we also recommend applying a soothing solution such as endota Rest & Restore Clove & Mint Recovery Balm after your workout. This body balm is cooling and calming, and is formulated with peppermint, cajuput and camphor oils to ease aching pains and muscle tension. Bonus: these natural oils smell amazing. Apply the balm immediately after your workout and shower, massaging it into areas that need relief.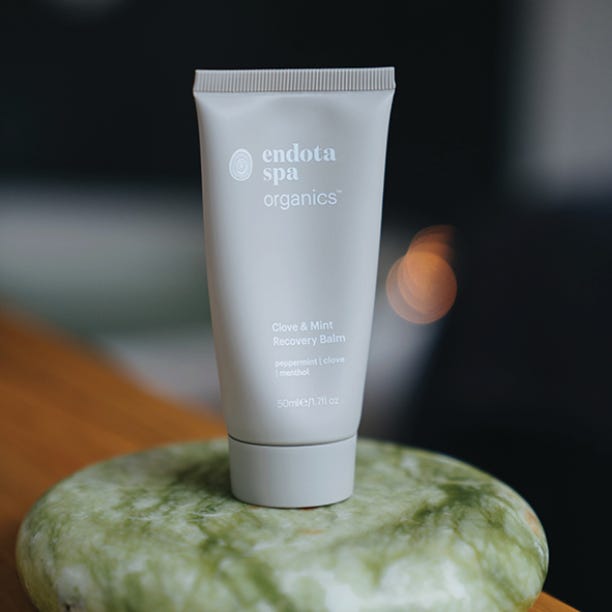 Our best-selling body balm contains natural oils such as peppermint, cajuput and camphor to soothe general aches and pains and treat exercise-related soreness. It can also help to reduce the appearance of bruises.


Waterless shower wipes

At the end of a HIIT class, the queues for the shower can get pretty long. When you don't have time to wait, shower wipes can be a godsend. Yep, they're like a shower, minus the water. Think of them as oversized baby wipes for the whole body, only they don't sting or leave you smelling disinfected. These game-changing products cleanse, refresh and deodorise. Keep a box in your gym bag for an instant shower in a pinch.


A colour-correcting primer

If your face isn't bright red after exercising, there's a good chance you didn't push yourself hard enough. But since we know you always give your workouts 110 per cent, you're going to need something to tone down that redness, STAT. A green-tinted colour corrector is the perfect product for the job as the green pigments counteract redness in skin. If you can find one that also has skin-calming ingredients, even better.


A makeup setting spray

Applying makeup after a workout can be a recipe for disaster. If the formula is too heavy, you can end up trapping in the heat; if you haven't cooled down enough, sweat can cause your products to slip off your face before you even set foot in the office. That's where a cooling makeup setting spray comes in handy. It locks your makeup in place for all-day wear and the cooling ingredients help soothe your skin and neutralise your body heat. Winner!


If you love beauty hacks, click here for more inspo!


Eat, sleep, sweat, skincare, repeat.




References:
https://immersive.pacificmags.com.au/marie-claire-instyle/endota/


Browse Rest & Restore by endota...