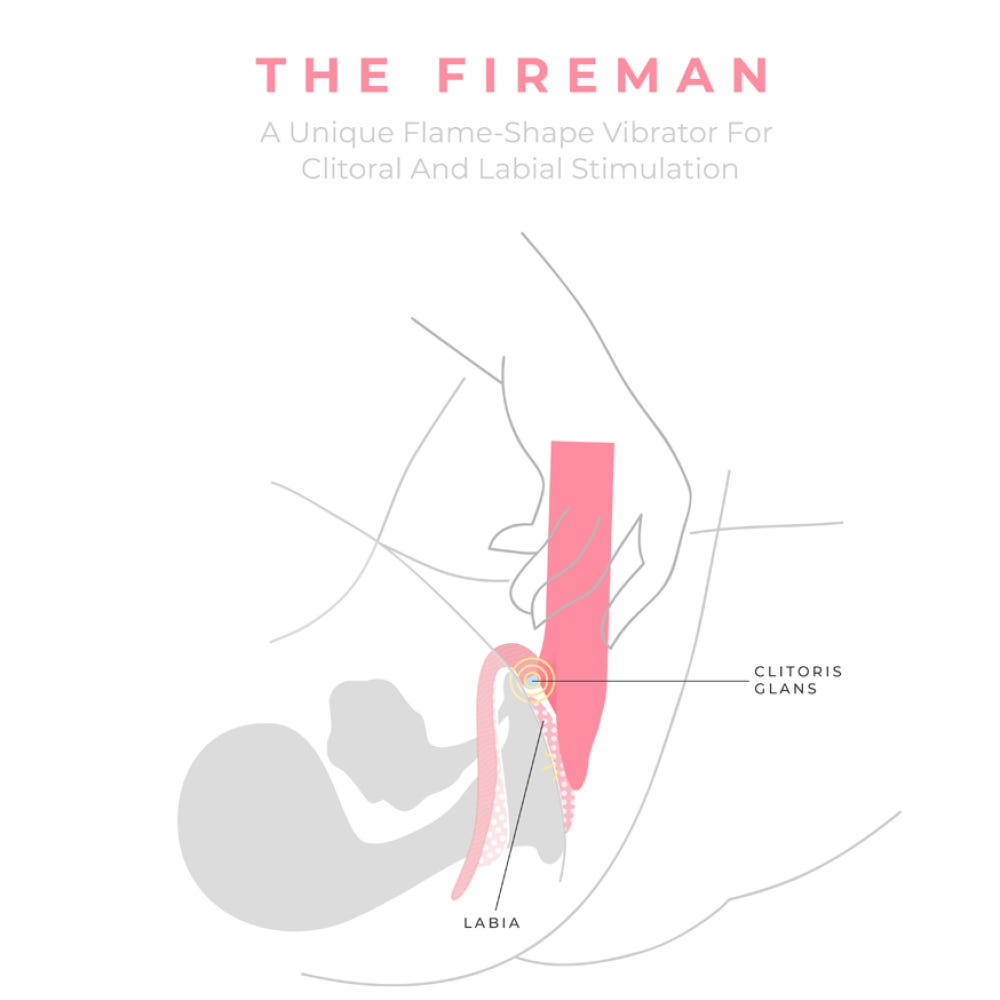 What is a clit vibrator?
A clit vibrator is a vibrator designed for an external use on female genitalia, and more specifically on the clitoris glans, the visible nub from the clitoris.
How does a clit vibrator work?
Even though the clitoris' entire structure is mostly internal, the clitoral glans is a small nub extremely rich in nerve endings and the only visible part of the clitoris. Its stimulation is super pleasurable, which is why clit vibrators tend to focus on the glans only. But the Fireman takes it to the next level by massaging the labia around thanks to its flame shape.
When and how can you use a clit vibrator?
A clit vibrator is a great toy for solo play and couple fun. As the clitoris plays a central role in female pleasure and swells when aroused, we suggest using clit vibrator to build up arousal, especially if you intend to move on to penetrative sex or using an internal vibrator. You can use a clit vibrator during penetration to enhance the whole experience. Indeed, 70% of women need clitoral stimulation to climax.
Will the edges of the vulva vibrator get in the way, they look tough?
Crafted from cryogenically polished high-grade silicone, the edges of the Fireman are perfect to apply on the vulva. They are meant to apply a gentle pressure on and diffuse the vibration to the labia for more pleasure.
Can you use a clit stimulator internally?
This external vibrator is created to stimulate all the pleasure zones of the vulva, which is the external part of female genitalia. The shape is not optimal for internal use, and you should definitely not use it for anal penetration as there is no flared base. But you can try shallow penetration around the vaginal entrance to tickle this sensitive zone
How are the products packaged?
Our products are discreetly packaged. There is no Smile Makers logo on the outside of the package. Inside the package, our product is safely packaged in a consumer unit box that has been tested for stability, so it can travel around the world safely to you.
If you are not satisfied with your purchase, please contact us at feedback@endotaspa.com.au within 30 days of purchase.
If the product is unopened, please ship back the product to: endota Product Pty Ltd, Rear 475 Moorooduc Hwy, Moorooduc VIC 3933. Once the product has been received in our warehouse, full refund will be credited in the same form as your order was paid. Please note that shipping charges will not be refunded.
However, if the product is opened, we do not accept the product back for hygiene reasons, but we will give you a personalised 30% off coupon code for you to try something else at www.endotaspa.com.au and our customer care will be happy to assist you in choosing the right product for you. Or else, you can take our quiz to find the perfect fit!
If you believe that your product is defective, don't worry, we promised 1-year warranty for all Smile Makers product. However, you may first try some steps below:
- Try to screw tighter the cap to the bottom. The problem might be due to the battery contact getting loose.
- Try to shake the product first. However strange this may sound, there might be some dust trapped inside and by shaking it, it can remove it.
If the steps above don't work, please drop us an email at feedback@endotaspa.com.au with your proof of purchase and we will assist you further.
Defective products can be returned within 1 year of receipt date for a full refund or replacement. In case we request the product to be shipped back to us for investigation, we will also refund you back the shipping charges. 






or 4 interest-free payments of
$17.49
Learn more