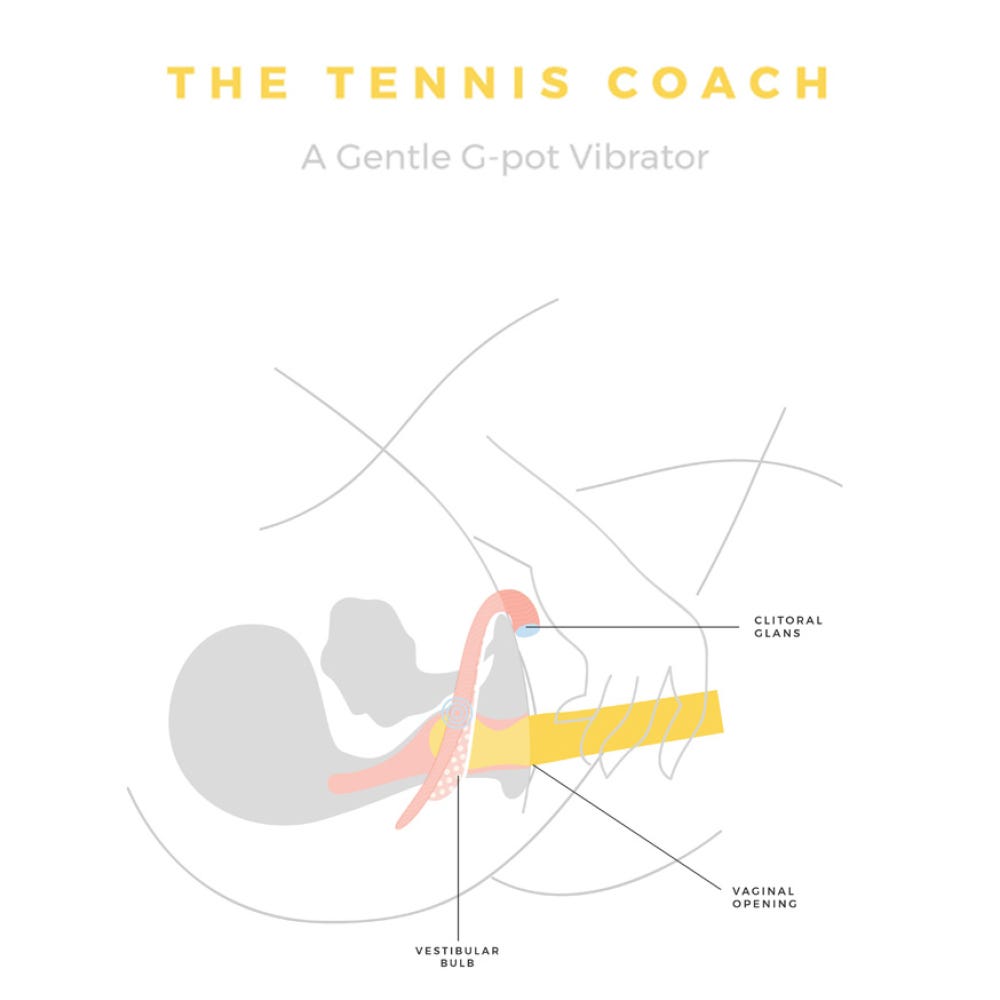 The G-spot vibrator looks a little hard, won't that hurt inside?
This G-spot vibrator is made of super soft silicone, and the neck to its rounded head is slightly bendable to adjust to your intimate anatomy. You will find its insertion very gentle, and you can always using lubricant. The rounded head has been designed to target your G-spot specifically, but you can start by applying it on the clitoris glans and giving yourself an external massage to prepare your body for penetration..
Why do G-spot vibrators have a different shape than other internal vibrators?
G-spot vibrators are designed to stimulate a specific area on the front wall of the vagina, that would not be reachable with a straight shape. That's why the Tennis Coach G-spot vibrator features a rounded head and a neck with a specific angle, to bring the vibration to that internal erogenous zone.
How do I reach my G-spot with the G-spot vibrator?
When you insert the G-spot vibrator the Tennis Coach, make sure its rounded head s facing the front wall of your vagina. Then take you time to explore that area and play with the different speeds and pulsation modes to feel if a zone is more sensitive than others.
How are the products packaged?
Our products are discreetly packaged. There is no Smile Makers logo on the outside of the package. Inside the package, our product is safely packaged in a consumer unit box that has been tested for stability, so it can travel around the world safely to you.
If you are not satisfied with your purchase, please contact us at feedback@endotaspa.com.au within 30 days of purchase.
If the product is unopened, please ship back the product to: endota Product Pty Ltd, Rear 475 Moorooduc Hwy, Moorooduc VIC 3933. Once the product has been received in our warehouse, full refund will be credited in the same form as your order was paid. Please note that shipping charges will not be refunded.
However, if the product is opened, we do not accept the product back for hygiene reasons, but we will give you a personalised 30% off coupon code for you to try something else at www.endotaspa.com.au and our customer care will be happy to assist you in choosing the right product for you. Or else, you can take our quiz to find the perfect fit!
If you believe that your product is defective, don't worry, we promised 1-year warranty for all Smile Makers product. However, you may first try some steps below:
- Try to screw tighter the cap to the bottom. The problem might be due to the battery contact getting loose.
- Try to shake the product first. However strange this may sound, there might be some dust trapped inside and by shaking it, it can remove it.
If the steps above don't work, please drop us an email at feedback@endotaspa.com.au with your proof of purchase and we will assist you further.
Defective products can be returned within 1 year of receipt date for a full refund or replacement. In case we request the product to be shipped back to us for investigation, we will also refund you back the shipping charges. 






or 4 interest-free payments of
$17.49
Learn more