Magnesium is well-known for its ability to encourage the skin's recovery. Give your body the attention it deserves after every workout as you hydrate and calm the skin with this soothing, magnesium-rich mist. Using massage to apply this mist makes it the perfect complement to any relaxation ritual.
When incorporated in a relaxing massage, this 100% pure, naturally-derived magnesium can help soothe the skin, while the massage helps to ease your body into its natural balanced state.
Massage may help to improve body circulation and may help to ease muscular soreness. Apply one to two sprays and massage into areas of muscular tension. Avoiding the face and eye areas, massage until completely absorbed into the skin. Rinse hands...
Read More
100% naturally derived magnesium. Organic aloe vera.



Ingredients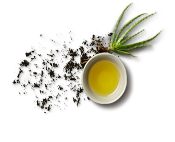 Aloe Vera
Gently adds moisture, while bathing the skin in protective antioxidants and healing enzymes, treating acne and nourishing dry skin
Magnesium
This essential mineral regulates body functions and is known for its ability to relieve tension and relax muscles when dissolved in the bath.