Arnica & Menthol Recovery Scrub
Give yourself a total body refresh. This purifying scrub uses the healing power of nature to detoxify and revive your body. Relieve tense muscles as you deliver the kind of intensive exfoliation that polishes your skin and helps release underlying toxicity.Cooling menthol and healing arnica target sore spots and help reduce bruising while gently abrasive sea salt invigorates, stimulating your circulation and encouraging healing. Exactly what your body needs to completely recover.
Use a 20c size amount, warm in hand and gently massage into damp skin using circular motions. Avoiding the face area, focus on tense spots and breather deeply while relaxing tight muscles. Rinse of with warm water for a smooth finish.
100% Naturally derived   Sodium Chloride, Vitis Vinifera (Grape) Seed Oil, Beeswax (Cera Alba)*, Mentha Arvensis...
Read More



Ingredients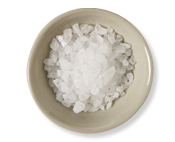 Sea Salt
A natural exfoliant and detoxifier that actually absorbs toxins from the skin.
Menthol
Refreshes the skin as it cools and invigorates your senses.
Arnica
This healing herb helps reduce bruising and ease muscle pain and stiffness.