Add this to your bedtime ritual: a calming, soothing, organic lavender tea that will help you feel rested and restored.
Details
The secret to a good night's sleep? A calming cup of lavender tea. This beautiful blend of organic Australian herbs will help calm your mind and soothe you to sleep after a long, busy day. Sweet and floral, its heartwarming scent and flavour will fill your cup in more ways than one.
We've packaged this loose leaf tea into unbleached, biodegradable tea bags, so you can enjoy 15 individual (and eco-friendly) serves whenever you need a moment to press pause or to relax before bed.
Key Ingredients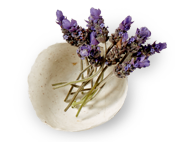 Lavender
Traditionally used in aromatherapy to relieve symptoms of stress, lavender essential oil evokes relaxation and calm.
the ritual
Steep tea bag in boiling water. Wait 5 minutes for the perfect cup (or longer if you like it strong).