DIY spa night: the ultimate at-home spa ritual!
---
Self-care might be an overused word in the context of beauty, but at endota, we're huge believers in making time to stop, check in with yourself and enjoy a few relaxing rituals. And a facial in the comfort of your own home might be one of our favourite ways to do just that – a nourishing treatment, candle light and some ambient music and the tension will melt away, not to mention the beautiful glow you'll be left with.
So, if you're running on empty and need to recharge your batteries, or your skin needs a little TLC (and you only have an hour to spare), we've got you covered. Read on for our top tips on creating a relaxing and luxurious at-home spa experience.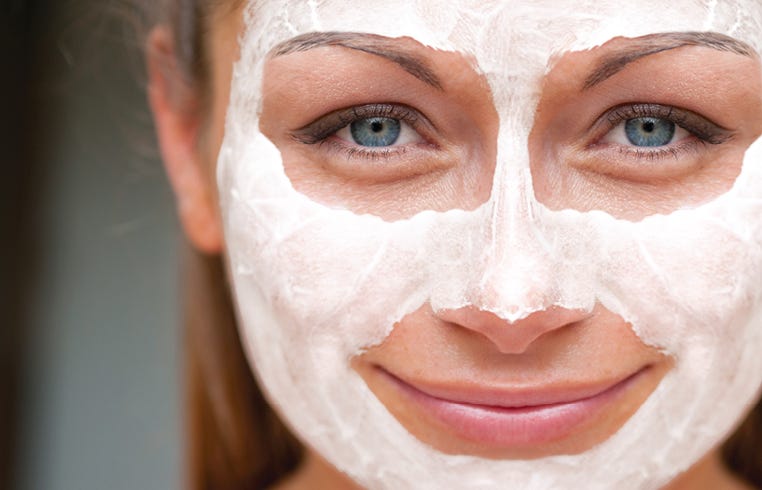 Set the scene
---
Ambience is everything when it comes to deep relaxation, so start by turning your bathroom into a sanctuary. Lay out a few clean towels and a terry-towelling headband if you have one, and change into a robe – our super-soft linen robe is bliss!
Choose some soft music and amp up the mood lighting: we love our Intention Candles – choose from Balance, Intent, Connect and Truth. Or, add a few drops of an oil blend that appeals to your mood to the endota Essential Oil Burner. Our Calm blend, with notes of lavender and ylang ylang, is a lovely way to enhance any self-care ritual.
Care for your complexion
---
Once you have prepared your sanctuary, it's time to move onto the at-home facial. You can pick and choose products that are suited to your complexion, but we always recommend a double cleanse, followed by a nourishing mask and facial massage. Take this opportunity for a small intention setting exercise to affirm your sense of inner peace. While your face mask is on, it's the perfect time for breathwork or a guided meditation from endota Retreat.
The endota Organics Intense Moisture Mask is a comforting blend of organic oils and omegas to restore and replenish dry or depleted skin. Try painting an even layer across your face, neck and chest with our Vegan Face Mask Brush.
You could also pick up one of our endota Organics Mini Kits, which have only just been released. Designed to offer you a complete skin ritual, our kits come with travel-sized iterations of our best-selling formulas. Choose from Hydrate (ideal for normal to dry, stressed or dehydrated skin) or Balance (a purifying edit that will refine and decongest).
Incorporate an enhancing facial tool like our Jade Face Roller into your ritual. The dual-ended roller works to promote blood flow, stimulate lymphatic drainage, and increase absorption of the products you apply to your skin. Our top tip? For a cooling effect, refrigerate your roller first; or to soften pores, dip into warm water before you use it. Seal these richly nourishing ingredients in with a moisturiser (for deeply hydrated skin, try our Organics Deep Hydration Moisturiser) as your final step for happy, hydrated skin.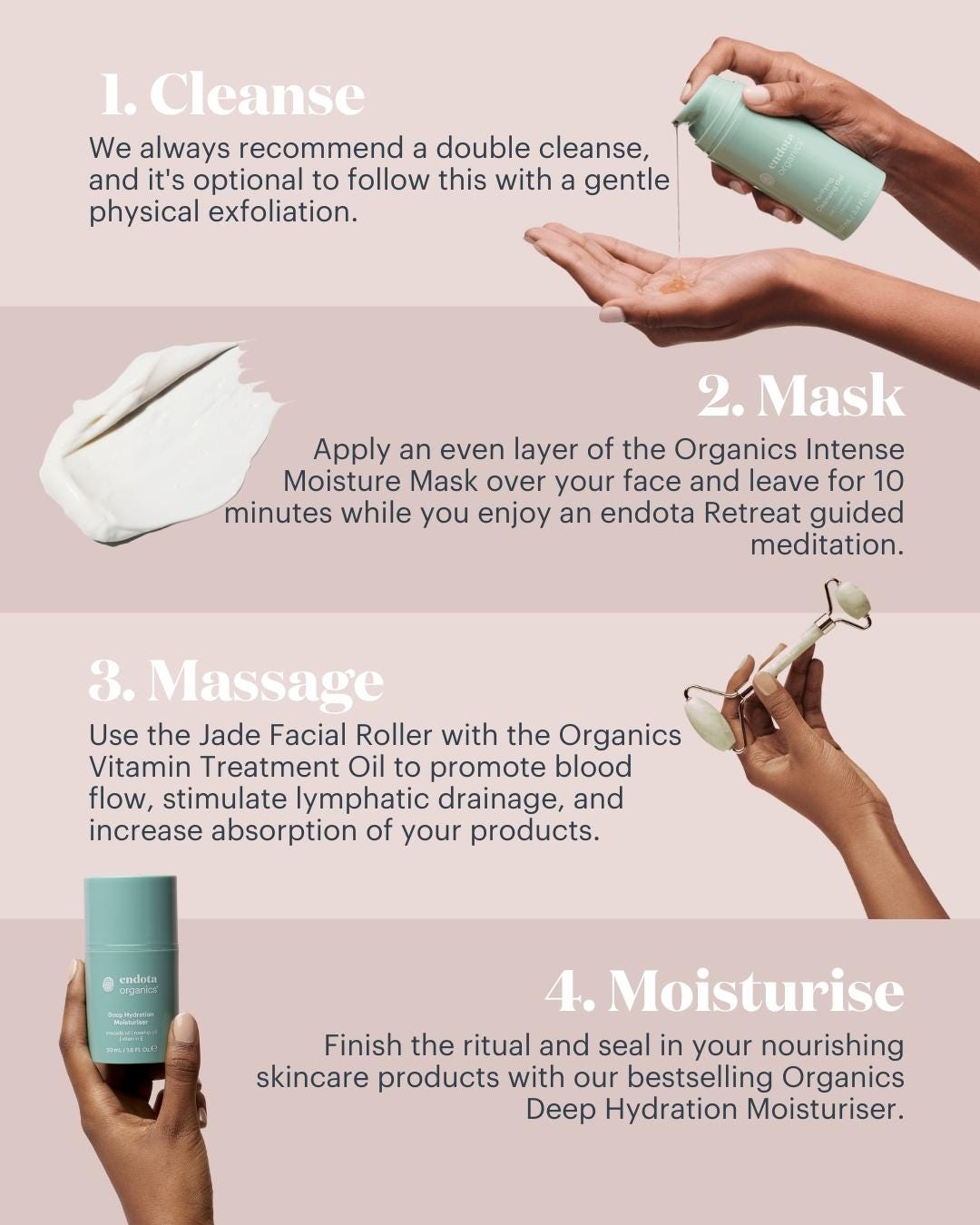 Body love
---
Complete your at-home spa experience with a little extra self-care – buff and shape your nails, read through a few pages of an inspiring book, comb through a hair mask or meditate using a guided practice from endota Retreat.
Another option is to extend your skincare below the neck, incorporating some body rituals into the mix. Dry body brushing is an established practice that's deliciously invigorating and can noticeably improve the skin's appearance — using a body brush, start at the feet and work your way towards the heart in upwards motions.
And no-one can deny the therapeutic benefits of a hot bath. Add a little Rest & Restore Recovery Bath to the water for muscle relaxation, then finish up with a generous slather of endota's organic Vanilla Macadamia Body Drink.
We hope these tips help you to unwind and recharge from the comforts of home.
Shop the at-home facial edit
---