how micro currents can deliver skincare benefits for radiant results
What if we told you that you could boost how your skin receives the enriching benefits of what you put on it? And it's all because of a treatment that allows active ingredients to deeply penetrate into the deeper layers of your skin, letting it absorb and retain the product that's put on it to better deliver visible results.

The very treatment; electro-mesotherapy.

According to endota's skin expert and education coordinator Kimberley Conboy, an electro-mesotherapy treatment involves machinery that uses "Micro currents to create ultra-micro-pores in your skin." Within your cell membranes there are pathways guarded by certain proteins. These proteins can be forced open by exposing your cells to specific electronic waves, allowing a clear entryway for these cells to better absorb skincare.
what can I expect from an electro-mesotherapy treatment?
An alternative to traditional needle mesotherapy, electro-mesotherapy is both gentle and painless. "The electro-mesotherapy wand has a mild tingling feeling, which may be felt in some facial areas where there is thinner skin," explains Kim.

"As electro-mesotherapy targets skin cells deep within your skin, it can take 2-3 days for these healthy cells to reach your skin's surface. Your skin will feel instantly hydrated and fresh, and your results will continue to be felt for the following week."

In addition to instant hydration, electro-mesotherapy works to target your individual skin concerns. This includes delivering boosts of bright, firming goodness to help your skin feel both radiant and smooth from deep within.
where can I have electro-mesotherapy?
Our electro-mesotherapy treatment can be enjoyed as a stand alone facial treatment or added on to other treatments to further enhance their benefits. For an additional 15 minutes to your electro-mesotherapy facial, you can add on a neck and decolletage treatment too – just ask your therapist at your time of booking or prior to your appointment.

During this facial your therapist will choose the New Age serum that best suits your skin, from Peptide 8 Hyaluronic Serum, Potent Brightening Serum and Super C Firming Serum, to be applied to your skin before the electro-mesotherapy wand is moved across your face. This allows the serum to reach the deeper layers of your skin so their benefits can be noticed from the inside, out. The 15 minute neck and decolletage add on can also be enjoyed with our Intense Radiance facial.

You can also now add electro-mesotherapy to our Organic Relax, Rest & Restore, Customised and Soothing Stones massages in spa – again mention this when you book your appointment. When used across your body, the device's unique technology stimulates blood circulation and enhances lymphatic drainage. This aids the removal of toxins and waste materials from your body, meaning it can also reduce your body's fluid retention.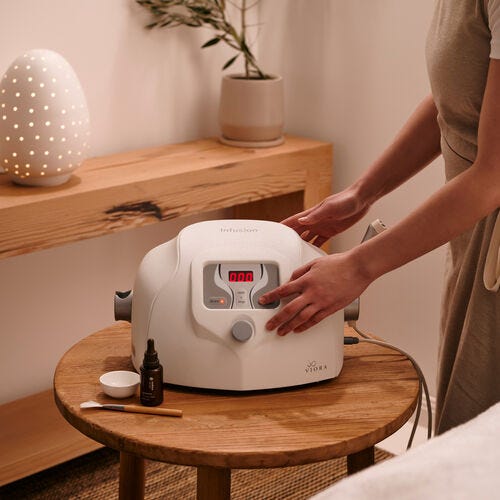 Our electro-mesotherapy body add on uses our New Age Body Firming Serum to improve the appearance and texture of your skin. This helps to smooth, sculpt and tighten your skin, resulting in it feeling firmer, smoother, and more youthful-looking.

For an additional 45 minutes to your massage treatment, electro-mesotherapy can provide these benefits to the skin across your thighs, stomach and arms. If you're looking to nurture two of these three body parts, the add-on will be 30 minutes on top of your massage treatment time. You can also choose one individual area out of your thighs, stomach and arms for this add-on electro-mesotherapy treatment for an extra 15 minutes.

Whether across your body or face, your skin will be glowing with radiant results and a dose of deep hydration.
is this the treatment for me?
The good news is that electro-mesotherapy can be enjoyed and tolerated by your skin weekly, as the treatment is non-invasive and requires no downtime. Any skin type or concern is suitable for receiving benefits from electro-mesotherapy. Whether that's dehydration, dryness, dullness, pigmentation or fine lines in both your face and body.

Are you aware of what your skin type is? You can read our blog and take our quiz to help you better maintain your skin's individual needs.
learn more about your skin
Do you have oily, sensitive, dry, combination or normal skin?
Take our skin type quiz to discover your skin type, skincare recommendations and top tips.
more from the endota edit