Thinking of trying a chemical peel? This is what an expert wants you to know
---
A transformative treatment for many skin concerns.
Whether you're after a seasonal refresh, maintenance for ongoing skin conditions or just want to increase your glow before a big event, few treatments are as effective as a chemical peel.
While they can sound intimidating (and paint a scary picture when it comes to the aftermath), when done properly peels are a safe and effective way to treat various skin concerns.
The endota Clinical Peel Facial is our take on the traditional chemical peel, and it is designed to not only resurface the skin but smooth, firm and restore radiance – all without significant downtime. In fact, it's one of our most popular and high-tech treatments, and the perfect way to really boost skin health.
What does a chemical peel do?
---
A chemical peel typically utilises both alpha hydroxy acids (AHAs) and beta hydroxy acids (BHAs) to resurface the skin, treating a range of concerns including dullness, signs of ageing, pigmentation and acne.
What to expect from the endota Clinical Peel Facial treatment
---
Our take on the classic skin treatment is holistic, so you not only experience skin benefits – but blissful relaxation as well.
endota skin expert and education coordinator Kimberley Conboy explains that there's three different peels available as part of the Clinical Peel Facial, depending on skin concerns:
Anti-Ageing Peel is 30% glycolic acid (an AHA) and works to target lines, wrinkles and signs of ageing.

The Brightening Peel is a 30% lactic acid (an AHA) and will noticeably brighten the skin. It's a great choice for uneven skin tone and those prone to pigmentation.

The Clearing Peel is a combination of both AHAs and BHAs including salicylic, mandelic, lactic, citric, glycolic and malic acids. This formula is able to dissolve sebum, unclog pores, minimise congestion and even out the skin. It's best suited for acne-prone complexions.
When applied, you might experience a tingle or feeling of warmth, but this is just the acids doing their job and it should subside after a few minutes.
The Clinical Peel Facial treatment is followed with LED light therapy to calm the skin, increase collagen production and further promote skin radiance (you'll also receive a foot massage at this time – bliss).
And to finish, your therapist will nourish and rehydrate the skin with high-performance skincare (which you're able to purchase and take home for ongoing maintenance). You'll leave noticeably brighter, fresher and smoother.
Book your endota Clinical Peel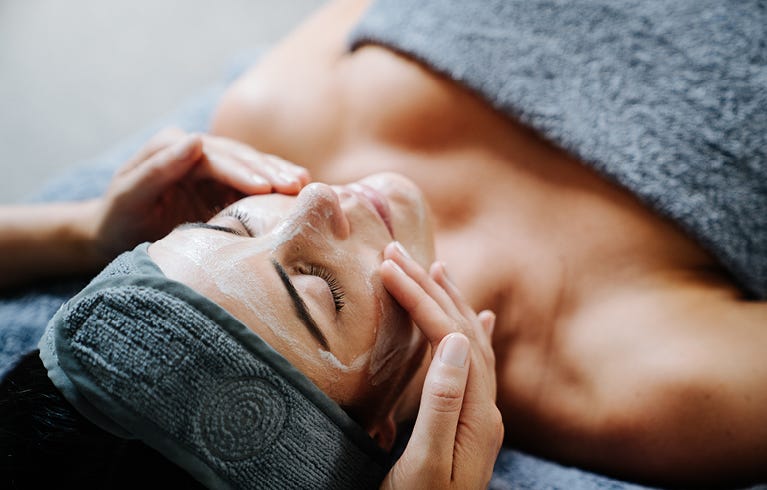 To do and not to do (according to an expert)
---
So now you've got the Clinical Peel Facial low-down, it's important to understand chemical peel dos and don'ts, so you don't end up with red, sensitive or irritated skin.
Before the treatment: In the week leading up to your treatment, Kimberley explains the number-one rule is to avoid exfoliation, retinol products and unprotected sun exposure. These can sensitise or thin the skin, and increase the risk of irritation post-peel.
"Other medications and advanced skin treatments are also to be avoided prior to treatment," she further explains.
After the treatment: Kimberley recommends avoiding any exfoliation for two-to-three weeks. You might notice some light shedding or flaking, but this is normal. Avoid the temptation to pick, and instead focus on nourishment and hydration.
"Keep up hydration with nourishing oils, moisturiser and gentle cleansing, and utilise the aftercare advice given to you by your individual therapist."
Sunscreen is also really important. Be sure to apply a broad-spectrum formula every single day to prevent sun damage or further inflammation while the skin is fresh. Don't forget the neck, chest and ears as well.
To extend your glow at home
---
If you're looking for a resurfacing treatment you can use at home, or feel like your skin is losing its radiance between treatments, try working one of these targeted exfoliants into your routine:
For dullness, lines and wrinkles… Try: Two Step Micro Polish & Peel
For instantly smooth, luminous, youthful-looking skin at home, try this two-step polishing treatment. The first stage involves a mild lactic acid and polishing micro crystals to remove dull, lacklustre cells, before a peptide-rich formulation is massaged in to promote healthy collagen and elastin production.
For a deep pore clean… Try: Active Thermal Exfoliant
This treatment uses warming technology to soften pores and soothe the senses, while salicylic acid is able to clear and refine the pores. It's also rich in milk thistle, magnesium sulfate and jojoba to nourish and soothe.
For a brighter, clearer looking complexion… Try: Rapid Enzyme Peel
This concentrated enzyme peel contains five beautiful botanical extracts (with naturally-occuring AHAs) to refresh, revive and renew the skin. You'll notice a significant improvement in both tone and clarity in just five minutes, so try it before an event.
Explore the featured products