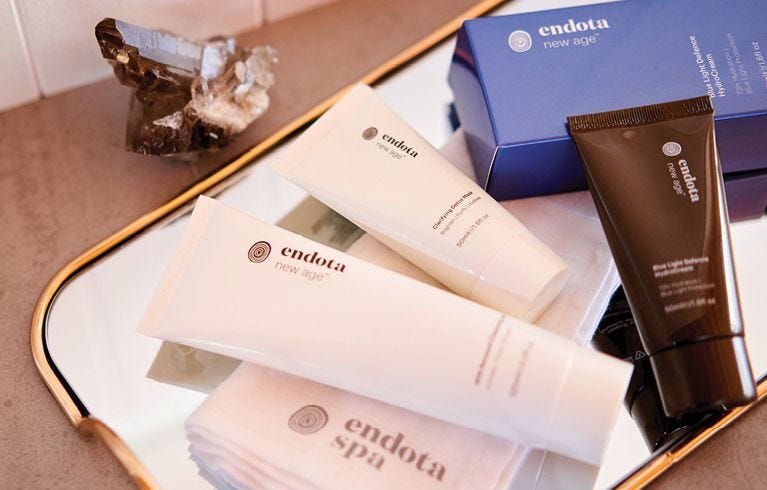 6 Steps to help manage working from home
May 2020
Make the time for at home rituals in this New Age
---
Does anyone else miss that post-facial treatment feeling? That floaty, happy buzz? While your initial reason for booking in a facial might be to treat certain skin concerns, let's be honest – we all love the hour or two of pampering that comes with a facial.
A good facial will not only leave you with clean, hydrated and glowing skin – it will reduce your stress levels, help prevent ageing, even out your skin tone, get rid of blemishes and protect your skin from environmental damage.
And while right now we can't offer you the benefits of a treatment in-spa, we can bring them to the comfort of your home.


1. Make an appointment and turn up!
Block out an hour or two of your day and dedicate that time to your facial experience.
2. Get the right products
One of the benefits of visiting a spa is the expertise of our people. We know what products and ingredients will bring out the best in your skin - and now you can access these at home.
Our New Age at Home Facial packs have been carefully curated to treat five specific skin concerns. How do you choose the right pack for your skin type? This guide can help.


If you have mature skin and want a routine that targets firmness, fine lines and wrinkles, the Anti-Ageing pack is a perfect fit.
Concerned with dark spots, uneven skin tone, dullness and UV damage? The Pigmentation pack is for you.
Parched skin will adore the Dehydration pack with ingredients that help plump fine lines and wrinkles, addressing tightness and premature ageing.
For skin in need of products that help with breakouts, excess oil production, acne and congestion, look no further than the Blemish pack.
Are you suffering redness or irritation? The Sensitive pack will provide some welcome relief from flakiness, inflammation and couperose, as well as offering environmental protection.
With a carefully selected cleanser, mask, moisturiser and muslin cloth, you'll have everything you need delivered to your door.
3. Prepare everything ahead of time so you can
Grab all the things you need before you start, so you aren't interrupted. This can also include getting into comfortable clothes, taking off jewellery or tying your hair up.
4. Create the ideal setting for relaxtion
Some ideas for this include to light a candle for a calming ambiance and oil burner or diffuser to breathe in the benefits of aromatherapy. You can play some relaxing music, soak in a warm bath while waiting for your mask to perform its magic or read a book.
5. Don't rush
This isn't your daily routine, so take the time to love your skin a little. Allow the products to work to their full potential. You could even take this time to think of some loving intentions for your day, repeat positive affirmations or do a gratitude exercise.
6. Get ready to glow
Thank yourself for taking some time out just for you. You will feel the difference in your whole mood. This is a ritual you can repeat as often as you like, for a glow on the inside and out.
---
In this New Age, we invite you to bring a piece of the endota experience home.
Explore our range of at home facial kits...