Our favourite immune boosting recipes
---
To encourage and promote well-being, we've developed a range of supplements and superfood, to support your general health & well-being from within. One quick and easy choice you can make is to add our endota Glow™ range of supplements into your daily routine.

Here are some of our therapists favourite recipes to try with our endota Glow™ Super Greens powder. These amazing concoctions taste as good as they are for you!


"This amazing vegan & gluten free Glow Super Greens Powder is perfect for those who want to look after themselves from the inside out. Packed full of essential nutrients and vitamins this powder is going to help assist with a number of important things such as the healthy function of the nervous system, collagen formation, reduction in tiredness and fatigue, general well-being and the maintenance in healthy hair, skin & nails."

Super Greens Smoothie Recipe:
---
One of our wonderful therapists Rita, from Sunshine Plaza shared with us her all-time favourite Super Greens Smoothie Recipe.


Serves: 1

Prep time: 5 minutes

Tip: The avocado in this recipe is what makes it delicious and creamy without any dairy. Perfect for those like myself with intolerances.

Ingredients:
• 200mL chilled coconut water
• 10gm scoop or 2 heaped teaspoons of super greens powder
• 6 cubes of frozen mango
• 1 frozen banana
• 1 handful mixed frozen berries
• 1 generous handful spinach (fresh OR frozen is fine)
• half an avocado (frozen OR fresh is fine)
• dash of honey


Method:
Step 1. Pour the coconut water into your blender
Step 2. Add a scoop of super greens powder
Step 3. Add all ingredients and blend until smooth
Step 4. Garnish with your favourite toppings (Black Berries, Banana and Mint)
Step 5. Enjoy this delicious wholesome drink at any time of the day. I love having this for breakfast as it provides me the nutrients & energy I need to set myself up for a successful day.
---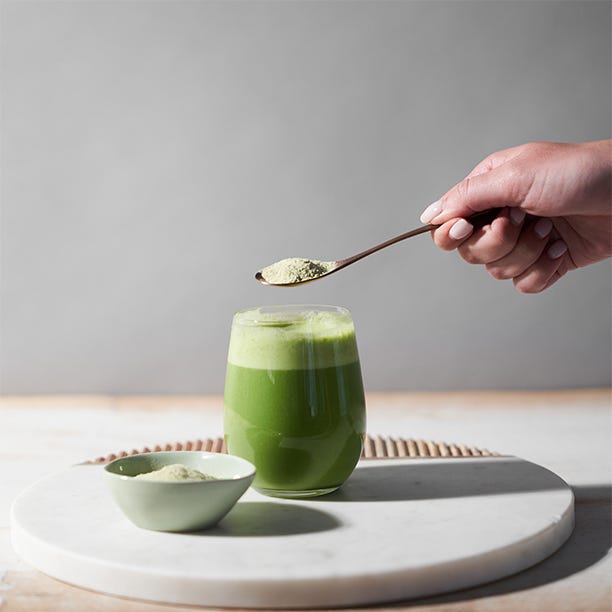 "Boost energy, immunity and skin-health... it's sunshine in a glass!"

Green Juice Recipe:
---
The lovely Tabatha, from endota Gladstone loves to start her morning with a green-charged juice.

Ingredients:
• 1 scoop Super Greens
• 1/2 frozen banana
• 5 frozen pineapple chunks
• 1 chunk of fresh ginger
• 1 slither fresh turmeric
• 1/2 Valencia orange
• 1 chunk frozen passionfruit
• 1/2 Granny Smith apple
• 1/4 cup frozen blueberries
• 1 handful spinach leaves
• Top with coconut water


Method:
Wizz in the blender until smooth and enjoy!