Give your skin some special treatment
---
As we edge toward the end of winter, it's a great time to check in with our skin to see how it's fared over the last few months. Cold temps outside and dry warm air inside can leave skin dehydrated and lacklustre–but with the ideal treatment and product combination, you can get things back in balance. endota skin expert and education coordinator, Kimberley Conboy, says that the Intense Renewal Facial is a great treatment that will instantly give you a radiant glow.

"This facial is great for most skin types, except the very sensitive, and is especially good at the end of a season to really boost the skin's ability to renew," she says. It's a powerhouse combination of four targeted treatments packed into one blissfully relaxing 75-minute session. The results-based fusion of electro-mesotherapy (EMT), Light Therapy (LED), a Power Serum sheet mask and 15% Glycolic peel is non-invasive, but you'll see instant results.
Experience the renewal
---
And while the name says intense, you'll still get endota's signature style of deep relaxation with this treatment. It starts with a consult with your therapist, where they'll discuss your skin concerns and then proceed with a deep double cleanse. This is followed by electro-mesotherapy, which uses ionwave technology to create open pathways to your skin cells. While the word electro might make you nervous, the treatment is absolutely pain free – it's so relaxing that many people fall asleep. Then the 15% Glycolic peel is applied to deeply exfoliate and remove dead dry skin. While it's working its magic, you'll enjoy a relaxing scalp massage.

After the peel, LED light therapy will boost and rejuvenate your skin, while your therapist gives you a soothing foot massage. And for instant hydration and lift, your therapist will apply the Power Sheet Mask, followed by eye care, moisturiser and SPF to keep the skin protected and nourished.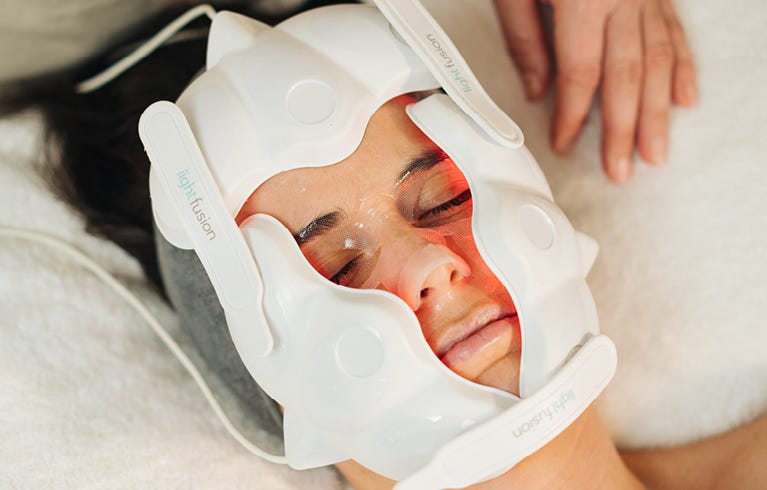 The Intense Renewal Facial includes LED Light Therapy to boost and rejuvenate your skin.
A high-tech duo
---
Kimberley says that EMT and LED work well together to get down into the deeper layers of the skin to target conditions that lie beneath the surface – things topical applications can't reach on their own. "EMT creates an open pathway so it can help deliver high performance serums deep into active skin cells, while LED can boost cellular activity and help with collagen and elastin production," Kimberley says. When we treat the skin in this way, you're giving it intense revitalisation from deep within the basal layer. Your skin works so hard to protect you, and with technology we can assist the healing and renewing process, revealing a plump and luminous complexion. "Instantly the skin will be glowing and hydrated. One of the best thing's about this treatment is that the results will continue to improve and become more visible over the next few days, as the recharged cells come up to the skin's surface."

As this happens, you may experience some light peeling, as the deeper layer of renewed skin reveals itself. The Power Serum Sheet Mask delivers intense moisturisation and nourishment and is the perfect addition to your at-home regime. Especially if you've had the Intense Renewal facial in preparation for an event (which we would absolutely recommend).
Glowing skin in every drop
---
While there's no downtime with this treatment, Kimberley says to take care not to exfoliate the skin for one week. And to allow all the goodness of the products used to soak in, don't cleanse or apply any other product for 24 hours. She also says it's important to keep up with regular home care. "You can keep the skin healthy and boost treatment results by using home care products prescribed by your therapist. This will ensure your personal skin concerns are continually targeted and the results are lasting."

A nourishing and hydrating addition to your home regime is the Vitamin Treatment Oil from our Organics range. It is full of antioxidants and contains Argan, Avocado and Rosehip Oil, which are naturally hydrating to rebalance and nourish all skin types. Consistent use can help reduce adult acne, tightness and dryness, and the natural oils are known to help with anti-ageing.

"The ritual of applying this oil can be deeply relaxing and it absorbs beautifully. It not only gives a natural glow, but it will help repair and rebalance the natural oil flow in the skin," Kimberley says. "It takes only 2-3 drops massaged into the skin on your face for deep nourishment and hydration. It helps repair and treat the skin and is ideal as part of your evening routine when the skin is often at its most dehydrated."

Have you had an Intense Renewal Facial? Or do you swear by our Vitamin Treatment Oil? Visit our socials and let us know what you think of this product and treatment combo.
Shop the featured products & treatment