Give lacklustre skin the cold shoulder this winter
---
Winter can be hard on our body and mind. Cold temperatures and lack of humidity can deprive our skin of essential moisture, leaving it dry and susceptible to irritation and sensitivity. But it's not only our skin that can be affected. Shorter days and cooler weather can make us stay indoors more, move and socialise less, and reduce our exposure to sunlight (vital Vitamin D) – affecting our mental and physical health.
Remembering to focus on yourself regularly will give your body and mind the nurturing it needs in those cooler months. Designed to de-stress your mind and replenish your skin, our Organic Infusion Facial is the perfect way to unwind and give your skin the nutrients it needs to thrive. Leaving you looking and feeling revitalised and radiant.
A nurturing facial to hydrate winter skin
---
Using nature's powerful ingredients, our Organic Infusion Facial is the ideal treatment for those new to professional facials – and those who want to hydrate and treat their skin with the added nurturing touches of a spa treatment.
"This hydrating and balancing treatment can repair damage to the barrier of your skin and gently introduce it to professional skincare," says Kimberley Duck, skin expert and endota educator. "It's suited to all skin types, particularly if you haven't had a facial before or perhaps you are slightly sensitive, or dry and dehydrated."
Be the most important person in the room
---
Feel your body relax as soon as you step in-spa, breathing in our Signature Essential Oil, mindfully blended to evoke calm and renewal. Quieten your body and mind with a cup of herbal tea in our waiting room before your blissful treatment.
Begin your Organic Infusion Facial with a consultation with your therapist. You'll be able to raise any issues you've noticed, and your therapist will identify any problem areas using our skin scanner technology.
Once you're comfortable, let a hot jade stone ground you and a spritz of flower essence help restore balance and harmony within – further enhancing the benefits of your facial. Set your intention for the treatment by choosing an essential oil scent that resonates most with you – Dream to encourage trust; Calm to inspire self-worth; Signature to empower you to be your best self; or Spirit to help you to take action.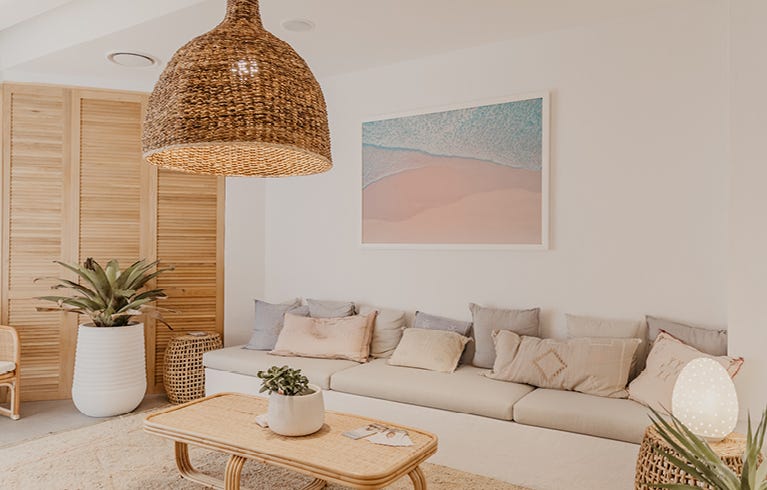 Be the most important person in the room. Pictured: endota day spa Byron Bay
Your therapist will cleanse your face, eyes and lips with our Moisture Restore Cleansing Milk and exfoliate to reveal fresh, glowing skin. A soothing face massage will help restore vital circulation, essential for healing and regenerating skin – preparing you for an intense moisture mask to boost hydration. While the nourishing oils and potent active botanicals soak into your skin, let all stress melt away with a heavenly foot massage.
Once the mask is removed, your therapist will nourish the delicate eye and lip areas, to help smooth out fine lines and brighten the skin. Our Radiance Boost Serum will then help restore a healthy-looking glow.
And an Organic Infusion Facial wouldn't be complete without our our award-winning Deep Hydration Face Moisturiser, one of our most loved products. An organic powerhouse, this moisturiser works in perfect harmony with the treatment to bring you hydrated, smooth skin the glows.
A new level of hydration
---
At endota, we've been treating people's skin for over 20 years. With this experience, we have developed high-performing, organic products that our therapists can use in-spa – and you can use at home.
Packed with nourishing organic ingredients certified by COSMOS, our Deep Hydration Face Moisturiser is a testament to the power of nature. Named Most Sustainable Face Moisturiser in the 2020 Global Beauty & Wellness awards, it's clinically tested and proven to increase skin hydration by 45% when used twice daily for 12 weeks.
It infuses the antioxidant and anti-ageing benefits of alma berry with restorative rosehip oil and nourishing avocado, grapeseed and sweet almond oils for ultimate natural hydration. Suitable for all skin types, this rich moisturiser leaves your skin looking and feeling renewed and youthful.
To top it off, this mighty moisturiser also looks after the planet, not just your skin. It's comes in new environmentally friendly packaging, made from recycled materials and renewable resources, using renewable energy. It is fully recyclable and Australian made to reduce its carbon footprint and support local businesses.
It's never been easier to look after yourself and the environment. Book in for an Organic Infusion Facial today.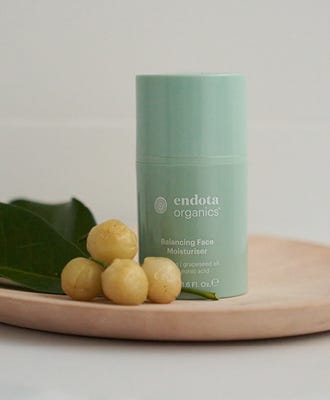 Did you know?
Amla berry, also known as Indian Gooseberry, has been used by healers in India for at least 1,000 years. The small, green and veiny fruits of the Amla tree are packed with Vitamin C (100g of the berry contains as much as 20 oranges), A and B as well as calcium and phosphorus. It helps treat acne, improves skin tone and pigmentation, has anti-ageing properties and brightens skin for a healthy, dewy glow.
Cleanse and exfoliate regularly
Use a high potency serum to feed your skin
Moisturise to keep your skin hydrated
Always use sunscreen to protect your skin