Corn Fritters
This crowd-pleaser is a perfect light lunch or dinner option. Highly nutritious, quick and easy, give these Corn Fritters with smashed avocado a whirl next time you're in the mood for something extra yum.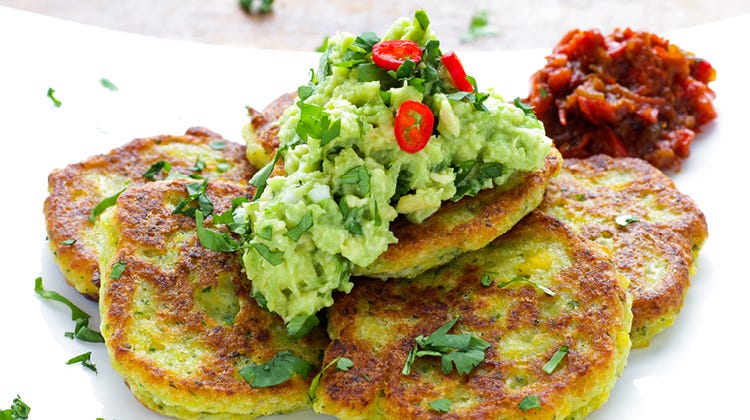 Prep time: 10 minutes | Cook time: 10 minutes | Total time: 20 minutes | Serves: 4
Vegetarian, Gluten free, Dairy free
Ingredients:
1 red onion, roughly chopped
1 egg
300g creamed corn (1 tin)
1½ cups plain flour (or gluten-free plain flour)*
1 teaspoon baking powder*
1 teaspoon ground cumin
1 teaspoon salt
½ bunch coriander, leaves and stalks (washed well)
pepper to taste
420g corn kernels, drained (1 tin)
2 tablespoons coconut oil
Smashed Avo:
1 avocado
1 tablespoon lime juice (½ lime)
2 spring onions, finely sliced
½ bunch coriander leaves, chopped
salt and pepper
1 long red chilli, finely diced (optional)
Method:
Add onion, egg, creamed corn, flour, baking powder, coriander leaves and coriander stalks, salt and pepper in a food processor bowl and process until it forms a batter. Add the drained corn and pulse a few times, just until the corn kernels are mixed through. Set aside for a few minutes while you smash the avo.

Mash the avocado in a small bowl, make it as smooth or as chunky as you like. Mix in lime juice, spring onions, coriander leaves, salt and pepper.

Heat oil in a frying pan over medium-high heat, and when hot, drop large tablespoons of mixture into the pan and cook for 2-3 minutes each side, until golden. When cooked drain on paper towel while you continue cooking the remaining mixture.

Serve fritters topped with smashed avocado and sprinkled with chilli.

Optional: great with Capsicum Relish
* GLUTEN FREE OPTION – ensure flour and baking powder are gluten free
Tip: On the weekend, I prefer to cook these on the BBQ as I can cook the whole batch at the same time.
Want more easy recipes? Buy the book or download the recipeezi app on the Apple Store or Google Play Store.
Recipes by Jodie Blight, extract from Summer TABLE - the recipes in Summer TABLE prove you can combine fast, delicious and healthy for the perfect solution to the 'what's for dinner' dilemma. And making life even easier, Summer TABLE includes a free APP - scan the recipes from the book to create a shopping list on your phone, with all the items sorted by aisle at your local supermarket.