Exfoliation as a ritual: how often should you exfoliate your body?
---
We spend so much time caring for the skin on our face, but when was the last time you exfoliated your body?
If you can't remember the last time you exfoliated your body, you're not alone, but it's worth considering the incredible benefits of regular body exfoliation, from smoother skin to increased circulation and more.
"Our skin naturally sheds dead cells, however the older we get, the slower this process becomes," explains endota skin expert and education coordinator Kimberley Conboy. "Exfoliation removes these built-up cells, working to smooth flakiness, reduce blockages, increase circulation and give you a great glow," she adds.
It's important to remember that the skin on our body differs from that on our face, so it's essential to seek out products and rituals that are designed specifically for use south of the neck. To help you on your way, we're sharing a few of our top tips (alongside Kimberley's expert advice) to take your limbs from dull to dewy.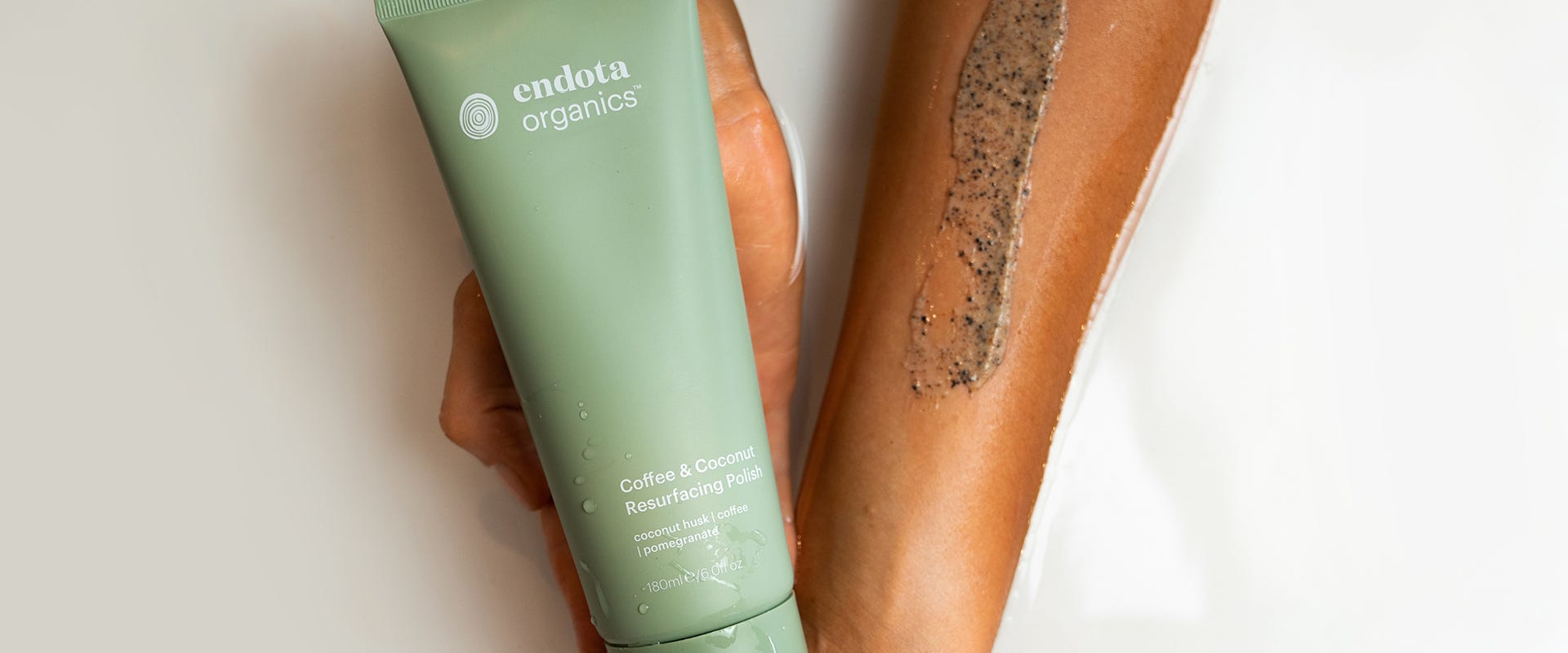 Facial exfoliation versus body exfoliation
---
Before you reach for a facial scrub, Kimberley suggests choosing a dedicated body exfoliant, as this will provide noticeable results: "I like to think of the face like paper and the body like cardboard. This is why body exfoliants tend to use larger granules and stronger enzymes to break down the thick skin," she explains.
The endota Organics Coffee & Coconut Resurfacing Polish contains grainy coconut husk, ground coffee beans and walnut shell powder to buff away dead skin, while the caffeine component gives skin a nice circulation boost. You could even pair it with our Scrub & Glow Mitt for an especially soft finish (bonus tip: if you're after an express option, our mitt also works well in the shower).
Developing a weekly full body exfoliation ritual
---
At endota, we're big believers in rituals, so why not plan a full body exfoliation ritual once a week.
Step 1.
Create a relaxing ambience by lighting a candle, playing some soft music and diffusing a calming essential oil to contribute to an enjoyable experience.
Step 2.
Choose a mantra to get in a relaxed frame of mind - we recommend 'I release any energies and thoughts that aren't for my highest good,' or 'I lovingly release negative thoughts,' repeating either mantra until your mind is eased and your body is more relaxed.
Step 3.
Take your exfoliant of choice to clean, damp skin, starting with the feet.
Step 4.
Sweep your exfoliant upwards from the feet in small, short strokes, drawing upwards towards the heart with each stroke.
Step 5.
Massage exfoliant into particularly dry spots, such as the knees, elbows and feet where skin needs extra attention.
Step 6.
Allow the exfoliant to sit for a minute, a great time to practice a short mindfulness exercise from endota Retreat.
Step 7.
Rinse exfoliant off with warm water.
---
For best results, Kimberley suggests putting aside time for this full body exfoliation ritual once a week. "Weekly exfoliation is excellent to help with fluid retention and skin smoothing, plus it's great for those who partake in regular hair removal as it can prevent ingrown hairs." It also helps the products you use on your skin penetrate, so you can better absorb body oil or moisturiser post treatment.
However, Kimberley warns not to overdo it: as with facial skin, over-exfoliation can disrupt the acid mantle and cause damage, resulting in increased oil flow, sensitivity, redness and breakouts.
Transform with a treatment
---
If you want to see even more transformative results, booking a professional body treatment is another great option. The endota Rejuvenate Spa Package is a blissful two hours that combines our signature facial with relaxing massage and a thorough body exfoliation. We begin with a foot soak, following up with a full body scrub, warm shower and a relaxing oil massage. You're then wrapped in a cocoon for the duration of the facial, allowing your body to fully relax and for you to emerge soft, nourished and positively radiant.
To explore the rest of our body collection, click here and be sure to read more on the Rejuvenate Spa Package here.
Shop the featured products