Hyaluronic acid: the hydrating ingredient you need to know about
---
If you've ever experienced dryness, flaking, tightness or irritation, chances are you've heard of — or tried — hyaluronic acid.
The ever-popular ingredient is synonymous with hydration, and has found its way into countless serums, creams, lotions and mists — all of which promise to give us plumped, bouncier, more hydrated skin with continued use.
From what it is to how it works, here's everything you need to know about this skincare superstar:
What exactly is hyaluronic acid?
---
Hyaluronic acid is a naturally occurring molecule that can hold up to 1000 times its weight in water. In skincare, it falls into the humectant category, which means it functions almost like a sponge, drawing moisture into the complexion and keeping it there.
endota skin expert and education coordinator Kimberley Conboy explains that hyaluronic acid has a low molecular weight and is able to penetrate even the deepest layers of the skin, activating cellular regeneration in a natural and effective way.
Say goodbye to dehydration and fine lines
---
While hyaluronic acid is an excellent ingredient for almost all skin types and concerns, it's especially useful to combat dehydration. Characterised by tightness, crepey-ness and dullness, dehydration occurs when the skin lacks water (as opposed to oil) so applying a humectant like hyaluronic acid is the best line of defence.
Because it plumps the surface of the skin, hyaluronic acid is also very effective when it comes to diminishing the look of fine lines and wrinkles. With regular use, it can also increase skin firmness, restore skin elasticity and impart a healthy looking freshness.
How to incorporate it into your routine
---
The beauty of hyaluronic acid lies not only in its effectiveness, but also in its versatility. The most common way to incorporate it into your routine is with a topical product or treatment, such as a cleanser, mist, serum or moisturiser.
Simply look for 'hyaluronic acid' or 'sodium hyaluronate' (a version of hyaluronic acid with a slightly smaller molecular weight) in the ingredients.
When it comes to ingredient pairings, hyaluronic acid plays nicely with almost all other active ingredients, so you don't need to worry too much about the risk of a bad reaction. On that note, here's some hyaluronic acid ingredient pairings we love:
Hyaluronic acid + vitamin C: Best used in the morning, this duo will work to brighten, firm and replenish the skin, leaving it plump and fresh-looking underneath makeup.

Hyaluronic acid + organic oils: When applied together, a humectant such as hyaluronic acid will draw water into the skin, while the fatty component (the oil) will lock it in place.

Hyaluronic acid + niacinamide: This pairing is perfect for dry, stressed, unbalanced skin in need of TLC. While the hyaluronic acid hydrates, the niacinamide will calm, refine and subtly brighten.
The endota hyaluronic acid edit
---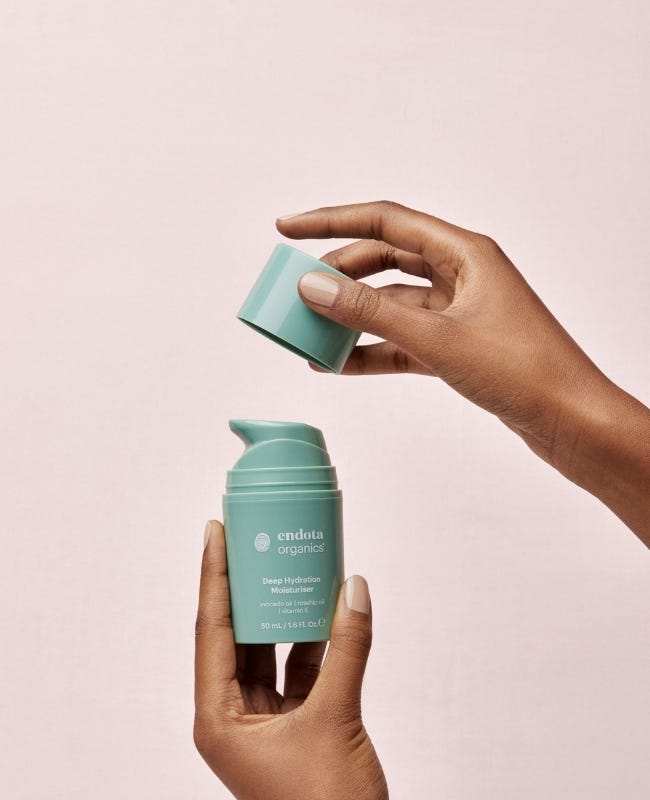 Packed with nourishing ingredients like avocado, grapeseed and certified organic rosehip oil, this moisturiser softens and smooths the skin for a glowing, dewy appearance. It also contains a dose of hyaluronic acid to hydrate, while the lipid-rich component locks in all the goodness and prevents any product evaporation.
---
Alternatively, if you have oily skin or prefer lightweight product texture, this lotion will hydrate and balance without the associated heaviness. Formulated with soothing niacinamide, reparative peptides and hyaluronic acid, it calms and decongests while conditioning the skin.
---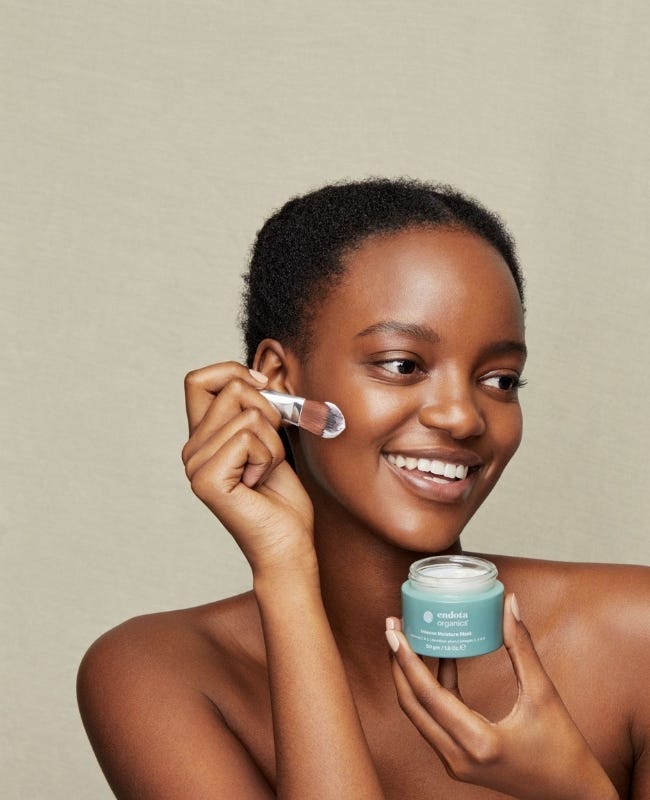 Craving a quick skin fix or intensive moisture boost? This rich, luxurious mask is full of vitamins, organic oils, and hydrators (including hyaluronic acid) that will restore bounce, elasticity and glow in minutes. If your skin is feeling overly stressed or irritated, you can even apply a thin layer before bed. You'll wake up refreshed and illuminated.
---
Want to brighten, firm and hydrate simultaneously? Super C is a blend of encapsulated vitamin C, ferulic acid and hyaluronic acid to even out skin tone, restore water levels and protect against environmental damage. The lightweight fluid sinks in quickly without residual stickiness, too. Apply a few drops after cleansing, and finish with your endota moisturiser of choice.
---