From acne to fine lines, this is how LED light therapy can change your skin
---
Think of it as instant glow.
If there's one beauty treatment we wish we could copy and paste into our skin routine forever, it would definitely be LED light therapy.
LED is nothing new, but it does remain one of the most effective ways to support skin health. And because of its versatility, it can be used across all different skin types – so you can see why it's an endota therapist favourite.
We use LED technology in many of our treatments, but few show off its impressive results quite like New Age Light Therapy. So here is the low-down on how it works, and what you can expect when you try it at one of our spas.
What is LED light therapy?
---
LED (short for light emitting diode) is a non-invasive treatment that uses colour wavelengths of visible light to target a range of skin concerns.
Trevor Neale from The Aesthetic Bureau tells us that the skin uses light as a source of energy to speed up the repair and rejuvenation of damaged cells. The energy is called ATP, and it works to charge up the cells much like a solar battery. What this means is that they are then able to function faster, stronger and more efficiently (to paint a simple picture, think of a dead battery versus a fully charged one).
It's completely painless (in fact, it's supremely relaxing), there's no down time and it comes with both instant and long-term benefits.
It can also be paired with other skin treatments like peels or microdermabrasion – not only will it add glow, but the LED can help to accelerate healing for best results.
What can LED do for the skin?
---
The wonderful thing about LED light therapy is that it can be tailored to suit various skin concerns depending on the light colour and wavelength used.
Red and near infrared are the most widely used, because they are able to deeply penetrate the skin and affect it on a cellular level. endota skin expert and education coordinator Kimberley Conboy tells us that the red and near infrared light used in endota spas increases blood flow, stimulates circulation, supports collagen and elastin production, plus assists in antioxidant activity.
Blue light is another common one that we frequently use in our spas. Trevor tells us blue light is more superficial, and is known as the antibacterial frequency that encourages bacteria to destroy themselves. This includes P. acne (acne-causing) bacteria, making it an excellent choice for blemished skin types.
There's also green light, that again Trevor tells us works on the more superficial layers of the skin to calm, tone, reduce redness and promote healing.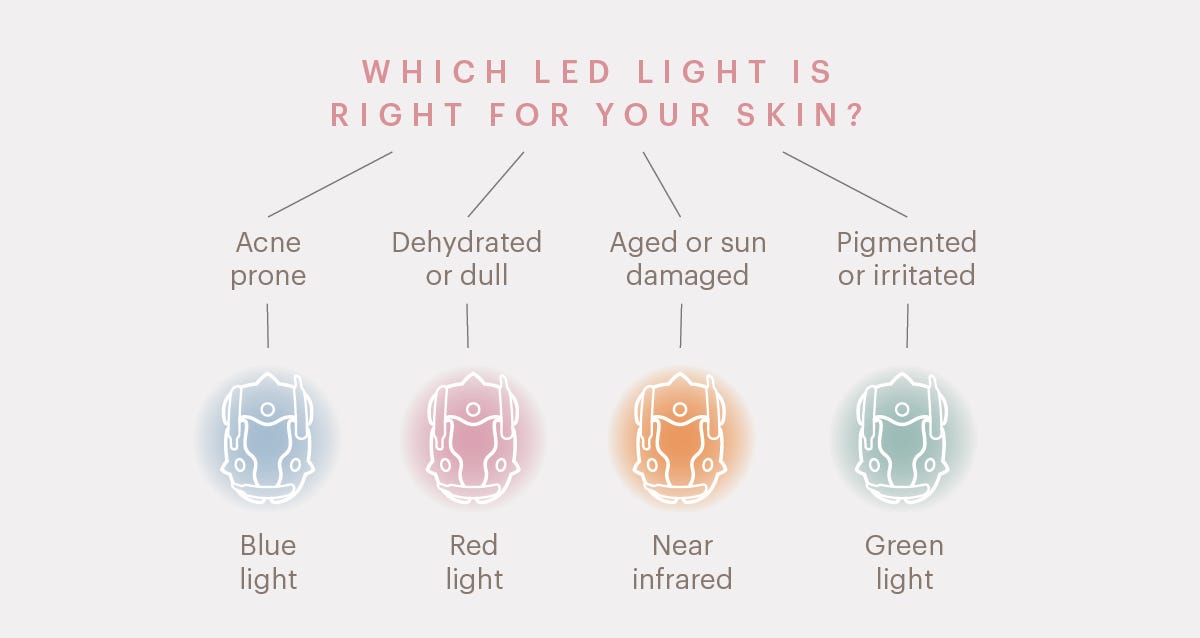 endota uses a range of lights, frequencies and wavelengths – your therapist will be able to find something that suits your individual complexion.
New Age Light Therapy: Glowing results in just an hour
---
When it comes to endota facials, there's so many targeted treatments to choose from, but New Age Light Therapy is a nourishing, restorative option that works for just about everyone. "It's ideal for most skin types, but it is particularly beneficial for prematurely aged, sun-damaged skin and dehydrated/dry skin types," explains Kimberley.
Both relaxing and results-driven, the treatment pairs advanced LED light therapy with soothing massage and the endota New Age™ skincare line for a radiant, hydrated, luminous complexion – and all in the space of an hour.
What to expect:
---
After a quick consultation to establish individual needs, your therapist will start with a grounding exercise and deep cleanse to centre you emotionally, and prepare your complexion for the treatment.
This is followed by a mango and pomegranate enzyme peel to properly exfoliate the skin, revealing brighter, fresher cells underneath, and enabling the remaining products to properly penetrate. Next, you'll be able to relax under the LED light. For anyone new to the treatment, it can be a little bright at first, but your eyes will quickly adjust and it becomes quite soothing – like laying in the warmth of the sun, only without the UV damage.
While you're there, you'll be treated to a luxurious foot massage – just try not to fall asleep. Or do! That's what facials are for, after all.
Once you're finished under the light, your therapist will work freeze-dried collagen serum into the skin in conjunction with a tension-releasing facial massage, leaving your complexion plump, fresh, and positively luminous. And for a final veil of hydration, they'll follow up with the Peptide Firming Moisturiser and Mineral SPF 50 Sunscreen for protection.
Relax under LED light tailored to your skin's needs.
Extend the glow at home:
---
Support your healthy, post-facial radiance with at-home care via the New Age™ skincare line.
The Deep Cleansing Cream is the perfect way to melt makeup and leave the skin feeling soft, clean and prepped for skincare. It's rich in sweet almond oil and vitamin E so you won't be left with that tight, stripped feeling.
Introduce the Rapid Enzyme Peel as a once-weekly treatment to lift dead skin cells and restore a healthy glow. It's like a mini facial you can achieve at home.
Follow up with the Peptide Firming Moisturiser to nourish and add moisture back into the skin. It's full of peptides for healthy collagen and elastin production, plus hyaluronic acid to hydrate.
Further treatment options
---
Because LED is such an effective, well-rounded treatment option, it's also integrated into several other endota facials, including the Intense Radiance Facial, Intense New Age Facial, Intense Renewal Facial and the endota Power Series.
Find your perfect treatment option by exploring the entire offering here.
Explore the featured products