Soothe stress and support sleep with this beautiful blend of organic passion flower and chamomile tea. Herbal with a fruity hint, this delicious cup will have you feeling relaxed and ready for bed in no time.
Details
Nothing beats a beautifully blended cup of tea, especially one filled with the finest organic Australian herbs like our Organic Passion Flower and Chamomile tea. It offers refreshingly fruity and herbal notes to soothe and calm.
Drinking a cup of this flower-powered herbal tea is the perfect way to unwind before bed as the herbs work to calm a busy mind and ease feelings of anxiety. With 15 individual biodegradable and unbleached tea bags in one pack, it's easy to enjoy a delicious bedtime brew.
Key Ingredients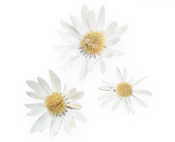 Chamomile
A naturally calming extract that can help soothe sensitive or dry skin.
the ritual
Steep tea bag in boiling water. Wait 5 minutes for the perfect cup (or longer if you like it strong).