The Poet is an air-pulsing clitoral vibrator designed for sucking sensations. Apply a bit of water-based lube, cup the suction mouth around your clitoris, and give the device a squeeze. (It's controlled by a pressure sensor.) When you find the intensity you like best, you can lock it in with a single click. You can pick between five pre-programmed pulsation modes, too. The whole device is waterproof and wrapped in super soft, body-safe silicone. And what really sets The Poet apart? It comes with three differently sized mouths you can swap out depending on your best fit and preferred sensation.
Click here to take the quiz & find out which vibrator is right for you.
Only available online.
Only available online.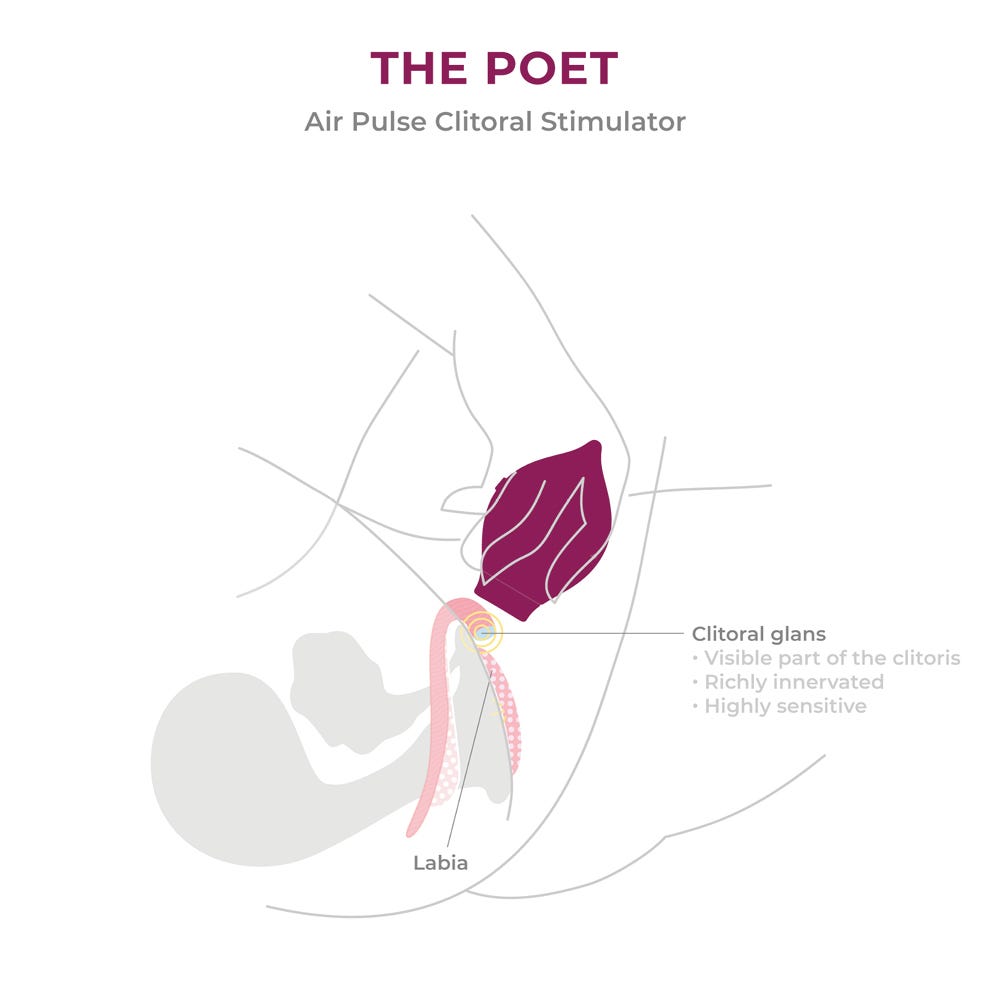 How do you put the clit suction toy on the vulva? Place The Poet above your clitoral glands, the part of the clitoris that is visible on the vulva, and bring it down so it touches the labia that surrounds the clitoris. Experiment with the 3...
Read More
If you are not satisfied with your purchase, please contact us at feedback@endotaspa.com.au within 30 days of purchase.
If the product is unopened, please ship back the product to: endota Product Pty Ltd, Rear 475 Moorooduc Hwy, Moorooduc VIC 3933. Once the product has been received in our warehouse, full refund will be credited in the same form as your order was paid. Please note that shipping charges will not be refunded.
However, if the product is opened, we do not accept the product back for hygiene reasons, but we will give you a personalised 30% off coupon code for you to try something else at www.endotaspa.com.au and our customer care will be happy to assist you in choosing the right product for you. Or else, you can take our quiz to find the perfect fit!
If you believe that your product is defective, don't worry, we promised 1-year warranty for all Smile Makers product. However, you may first try some steps below:
- Try to screw tighter the cap to the bottom. The problem might be due to the battery contact getting loose.
- Try to shake the product first. However strange this may sound, there might be some dust trapped inside and by shaking it, it can remove it.
If the steps above don't work, please drop us an email at feedback@endotaspa.com.au with your proof of purchase and we will assist you further.
Defective products can be returned within 1 year of receipt date for a full refund or replacement. In case we request the product to be shipped back to us for investigation, we will also refund you back the shipping charges.