endota Natural Clear Zinc SPF50+
Jan 2020
4 Beauty Hacks That Are Helping To Save The Ocean
Do good, look good
- By Chelsea Tromans, Marie Claire
---
Eco-friendly beauty products are on the rise. Half the time, you don't even need to make a conscious decision to opt for products that put our precious Earth first, since so many brands are doing their bit to look after Mother Nature - and our beauty needs - in one. But while recycled and recyclable packaging, natural formulas and steering clear of aerosol products are all exceptional steps in the right direction, there's one victim of your beauty habits you probably haven't considered: the ocean.
Here are four simple ways you can upgrade your beauty routine so it's not just eco-friendly, it's ocean-friendly, too.


Switch to a reef-safe sunscreen

Sunscreen is one of those skincare essentials we're always banging on about. It's a non-negotiable for protecting you against sun damage, skin cancer and signs of ageing. But one thing we don't tend to discuss is how your sunscreen may be harming sea life, including our beloved reefs. UV filters in chemical sunscreens wash off your skin when you're in the ocean and can negatively impact the marine ecosystem. Ingredients such as Octinoxate and Oxybenzone have been linked to coral bleaching, and subsequently coral death. Thankfully, though, it's not all doom and gloom, because there is such a thing as reef-friendly sunscreen. And endota Natural Clear Zinc™ SPF 50+ is one. It's a physical sunscreen that's free from chemicals that can harm coral and marine life, as well as your skin (don't forget, what you put on your skin gets absorbed into the body). The gentle formula contains certified organic and natural zinc oxide that has Ecocert Certification to protect against sun damage and calm sensitive and sun-exposed skin. It's also water resistant for up to four hours on the body, and two hours on the face. The packaging deserves mention too, as it's made with 100 per cent sugarcane plastic, which is completely recyclable.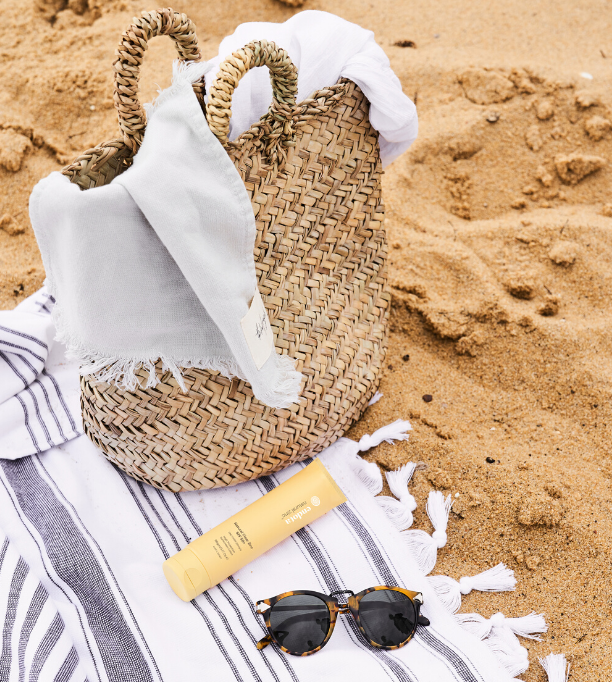 A Physical mineral sunscreen with a sheer, hydrating finish. The ultimate ocean-safe formula. Light on the environment. Natural on skin.
Features:
• Water resistant for 4 hours
• Suitable for face and body
• Reef and Ocean safe
• Made from natural minerals and hydrating plant based oils.


Embrace reusable makeup wipes

In case you haven't heard, disposable makeup-removing wipes are a *BIG* problem for the environment - oceans included. Most wipes aren't biodegradable and many aren't able to be removed during wastewater treatment, which sends them out into the ocean. Not cool. Add to that the issue of these wipes containing plastic fibers such as polyester and rayon (who knew?!), which contaminate our water. The best solution is to use reusable makeup wipes, which can be used again and again and don't require any cleansing products (spoiler: they're also not great for the oceans). All you have to do is add water.


Rethink your face scrubs

Did you know a lot of scrubs contain exfoliating beads that are made from plastic? When these bits of plastic run down the drain, they don't degrade or dissolve, and they don't get caught by wastewater treatment systems. Instead, they head straight into the sea, where they can have harmful effects - fish may mistake them for food and they are basically impossible to remove from the ocean. To avoid contributing to the problem, look for scrubs that are formulated with biodegradable exfoliating ingredients, such as jojoba beads, coffee grounds and sugar. Good to know: It's not just scrubs that may contain plastic beads. Your toothpaste, sunscreen, body wash and even your makeup may contain them, so be on the lookout.


Opt for plastic-free packaging

Are you sensing a theme here? Plastic and the ocean don't mix. According to Plastic Oceans International, eight million tonnes of plastic are being dumped into the ocean every year. As if that wasn't enough to scare you, the Ellen MacArthur Foundation estimates there'll be more plastic than fish in the ocean by 2050. Yikes! Sadly, the beauty industry is one of the worst culprits; it uses excessive amounts of plastic, from the wrapping around products to plastic containers, those little plastic spoons that unnecessarily come with your face cream and, of course, the addition of plastic beads in some formulas. So how can you help? Look for refillable products, choose products with glass vessels over plastic ones, and add packaging-free products to your line-up. These days you can find a lot of your everyday beauty products in solid, packaging-free form, such as shampoos, hair masks, perfumes and deodorants.
If you love clean, natural beauty products as much as we do, click here for more.


References:
https://immersive.pacificmags.com.au/marie-claire-instyle/endota/


Browse face & body skincare range by endota...