Aromatherapy is welll-known for its calming effects on the body and mind. This powerful combination of 100% pure essential oils is specifically designed to centre and relax you, helping dissolve stress in just a few simple sweeps.
Evoke a sense of balance as earthy frankincense, soothing lavender and anxiety-reducing chamomile encourage you to breathe deeply. The ideal start to a meditation or a simple way to take a grounding aromatherapy time-out.
Gently roll, back and forth, a small amount of De-stress oil onto wrists, temples, back of neck, soles of feet and/or palms of hands and breathe deeply.
100% pure essential oils including Frankincense, Petitgrain, Wild Chamomile, Rosemary and Lavender.



Ingredients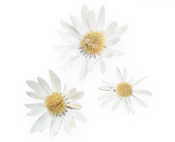 Chamomile
A naturally calming extract that can help soothe sensitive or dry skin.
Lavender
Traditionally used in aromatherapy to relieve symptoms of stress, lavender essential oil evokes relaxation and calm.
Frankincense
Inhaling the woody, earthy aromas of this powerful essential oil can help reduce feelings of anxiety.