Six ways to maintain your glow this winter
---
We've compiled the products, ingredients and rituals worth integrating into your routine for the cooler months ahead.
While every season has a unique beauty, winter can be one of the most challenging, both in a physical and an emotional sense. Our complexion bears the brunt of internal heating, freezing winds and drier air, which can leave skin dull, uncomfortable and zapped of moisture. But with a few easy rituals you can beat the winter chill, feel happier in yourself and enjoy glowing skin, no matter what the weather is doing outside.
Read on for endota's best winter skin tips.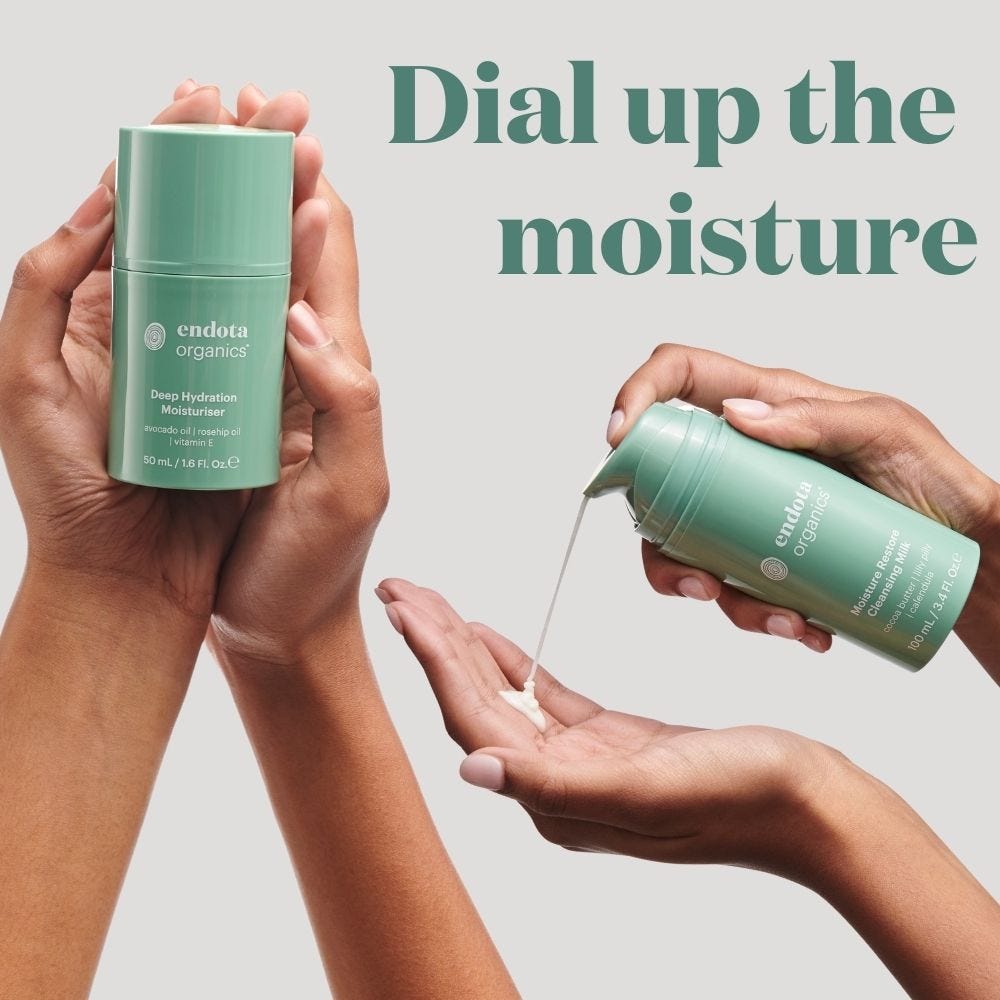 Dry air, cold temperatures, hot showers and central heating (or reverse cycle air con) can deplete water levels within the cells, leaving the skin tight, dull and flaky. To top up the moisture, reach for formulas rich in both humectants (water-binding molecules) and emollients to prevent further water loss.
Our pick is endota spa Organics™ Deep Hydration Moisturiser. It's formulated with glycerine and aloe vera to hydrate, plus avocado, grapeseed and certified organic rosehip oil to lock in all the goodness while simultaneously comforting the skin.
Our Moisture Restore Cleansing Milk is a beautiful cleanser that will replenish as opposed to stripping the skin, and works well in conjunction with the deep moisturiser. Smooth and velvety, a native blend of lilly pilly, cocoa butter and calendula, it will remove makeup and dirt while simultaneously softening the skin.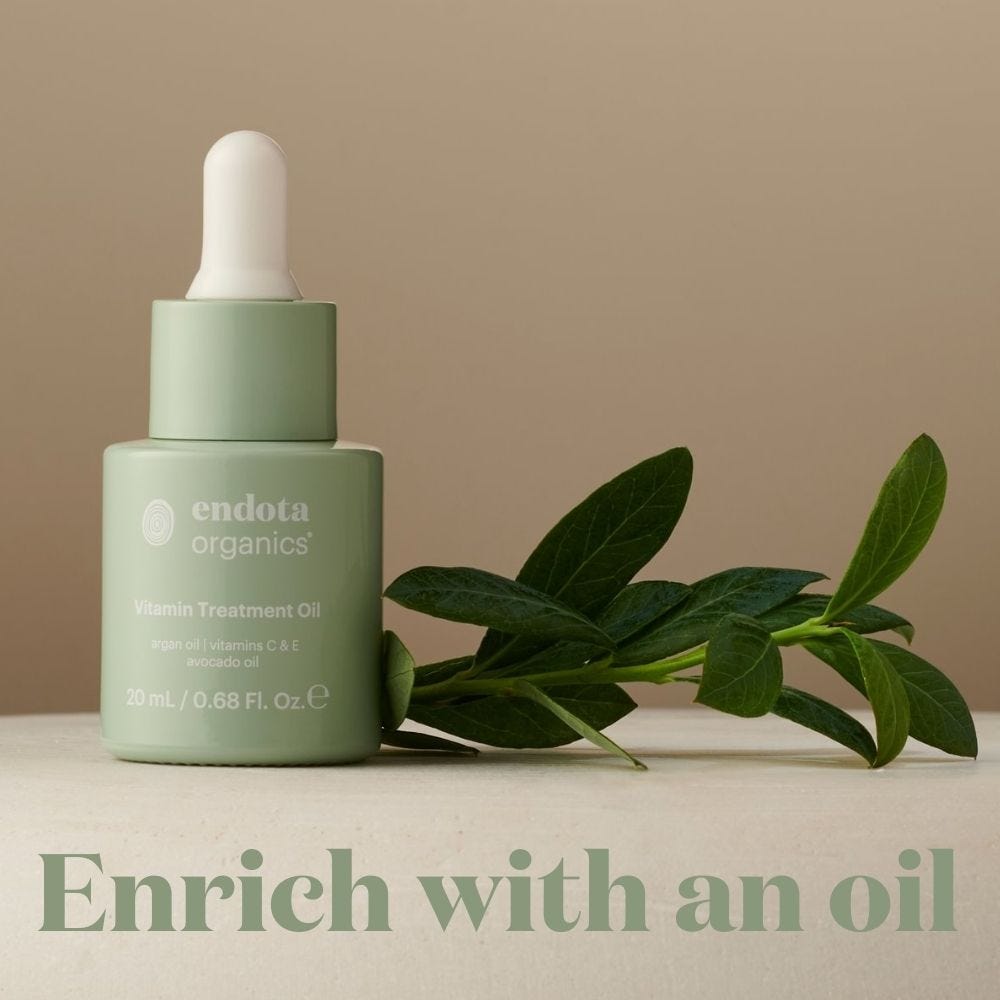 Another simple but effective addition to your winter skincare routine is a nourishing facial oil. The endota spa Organics™ Vitamin Treatment Oil is a powerful blend of argan, avocado and rosehip oils, which visibly restores luminosity while diminishing any feelings of dryness.

Try pressing it into damp skin before applying your moisturiser. You could even add a drop to your foundation for added glow.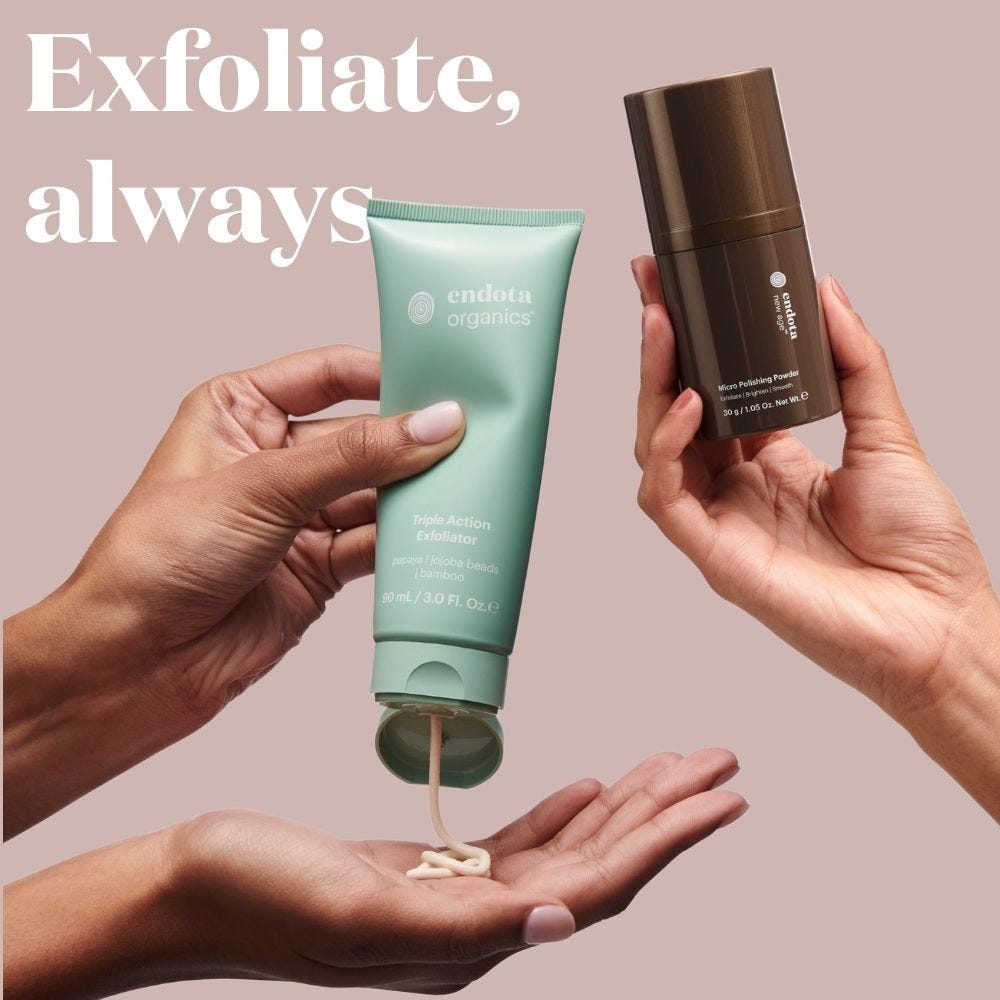 When the mercury dips, it's essential to continue regularly exfoliating your face with either a chemical or physical formula. Not only will this smooth and clarify, it will improve the effects of hydrating serums and moisturisers.
endota's Organics™ Triple Action Exfoliator is a top pick for normal to oily skin, while our Micro Polishing Powder promises a gentle daily resurface for drier complexions.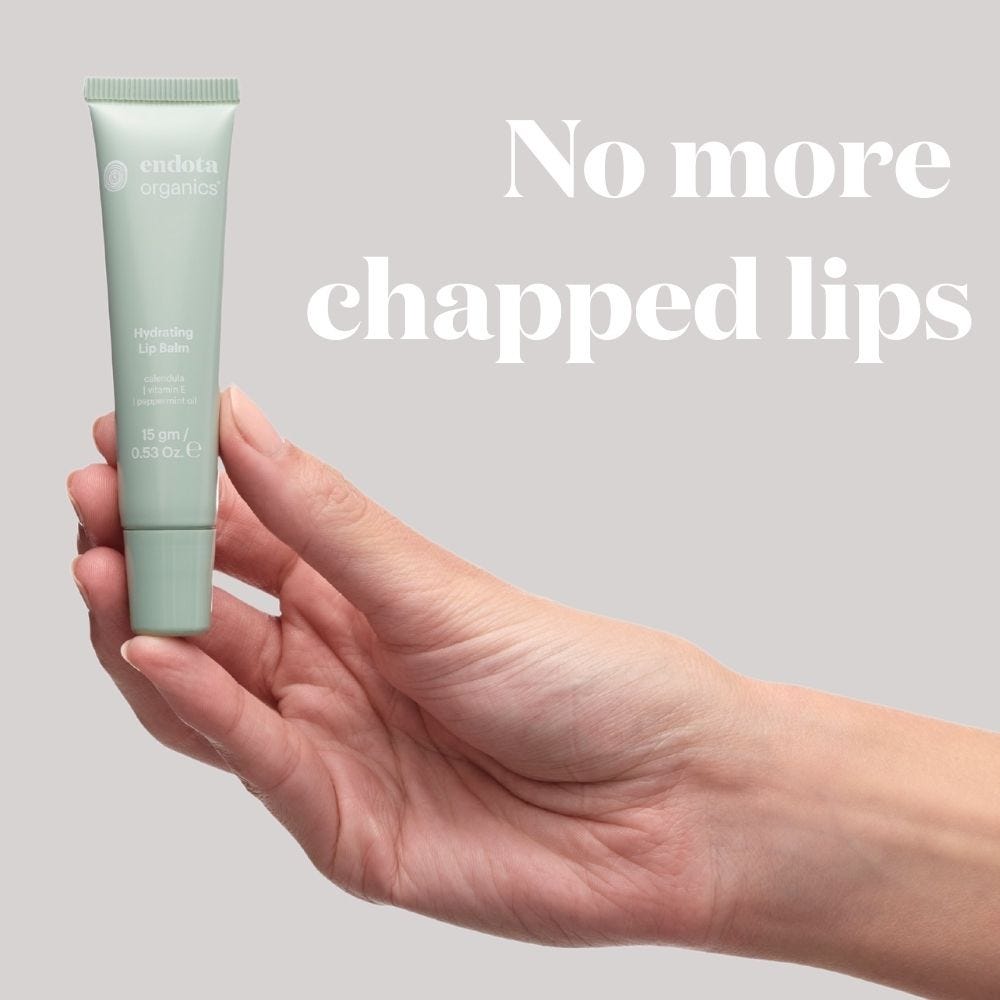 The skin on our lips is thinner than on the rest of our face, so a restorative lip balm is a winter essential. We use organic cocoa butter, calendula, and vitamin E in our Hydrating Lip Balm for long-lasting moisture. There's even a hint of peppermint for a refreshing finish.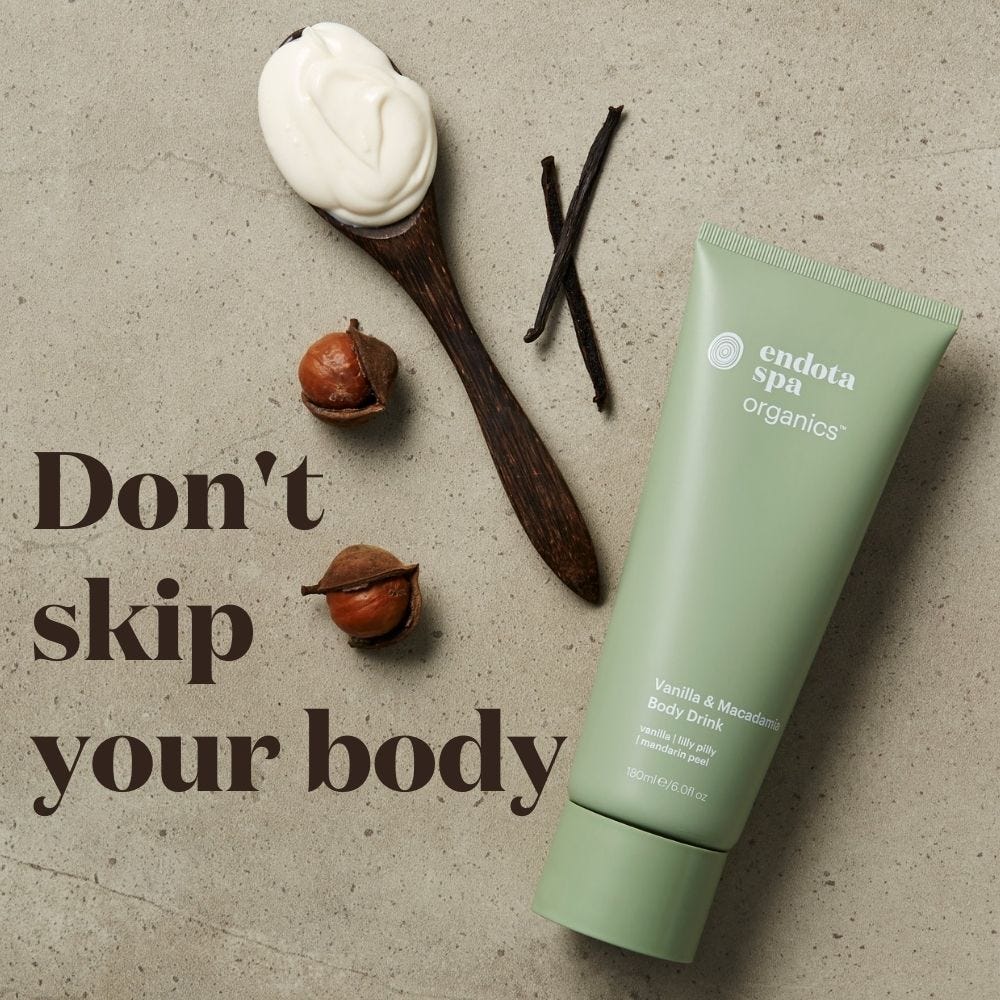 It's easy to hide scaly limbs under layers of clothing during the winter months, but the skin on our body is just as prone to itching, dryness and discomfort (especially if you're having more frequent hot showers to warm up).
An exfoliation mitt is an easy way to slough away rough texture, while a post-shower slather of the endota spa Organics™ Vanilla & Macadamia Body Drink will keep your skin soft and glowing.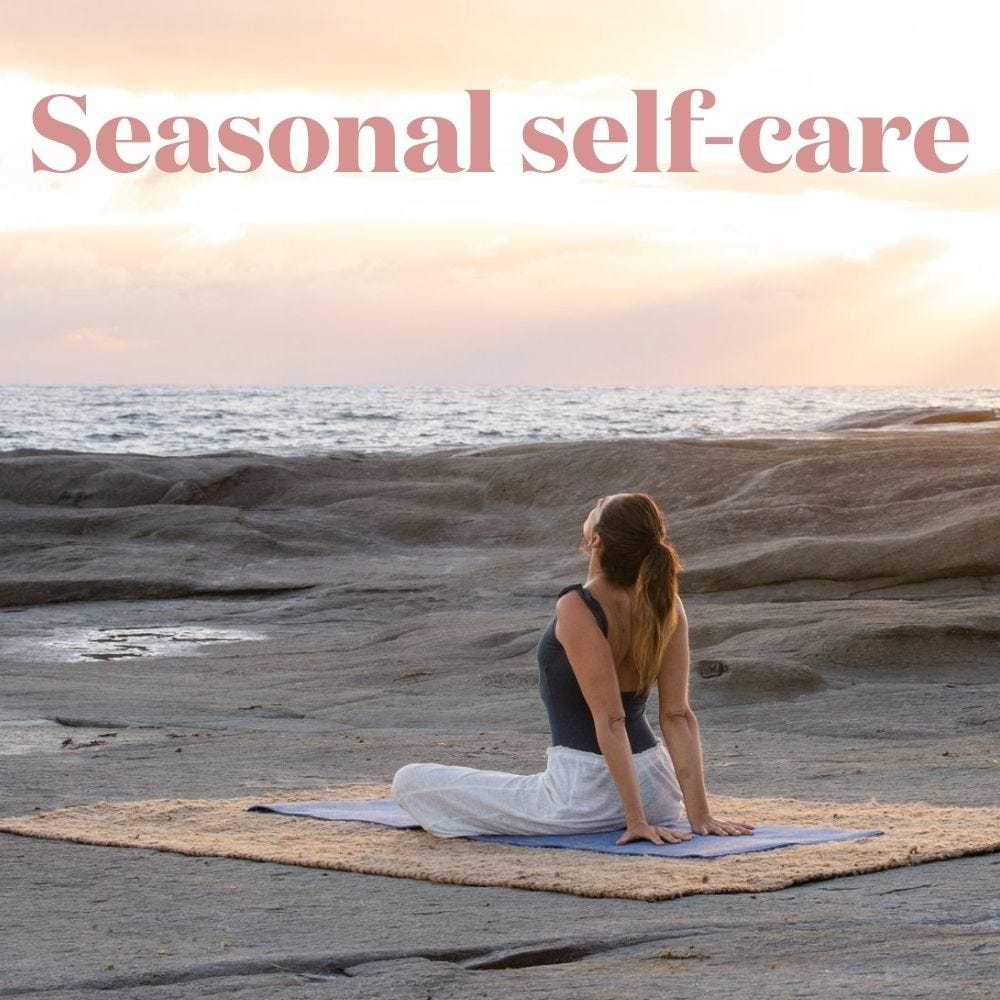 Non-stop grey, rainy weather can also have a significant impact on your mood. Instead of slipping into a winter slump, try your best to maintain regular gentle movement (walking, yoga and pilates are great) as well as mindfulness activities.
Meditation is a proven way to increase mood-boosting serotonin, and our endota Retreat site is packed with simple self-care practices that can easily fit into your day, our recommendation being our Mindfulness Meditation with Retreat guide Briony Goldsmith.
For more seasonal skin tips, read up on our guide to serums
Explore the featured products here: