Step one:


Start with the correct cleanser
---
While it might seem like a simple step, the right face wash can do a whole lot more than just wash your face. Think of it as the essential foundation on which to build the right routine for you - and that can mean changing things up with the seasons.
The summer heat may exacerbate oily types, while those non-negotiable SPF top ups mean there's extra build-up to remove at the end of the day. "Cleansers that are more acidic or astringent can offer more control when it comes to sweat and shine, which is obviously increasingly important during warmer months" explains endota Wellness College CEO, Helen Robb-Lacey. It's crucial to go gently, though: "We don't want to strip back the skin's barrier, so it's important to use an acidic cleanser that is balanced with both AHAs and soothing ingredients," she advises.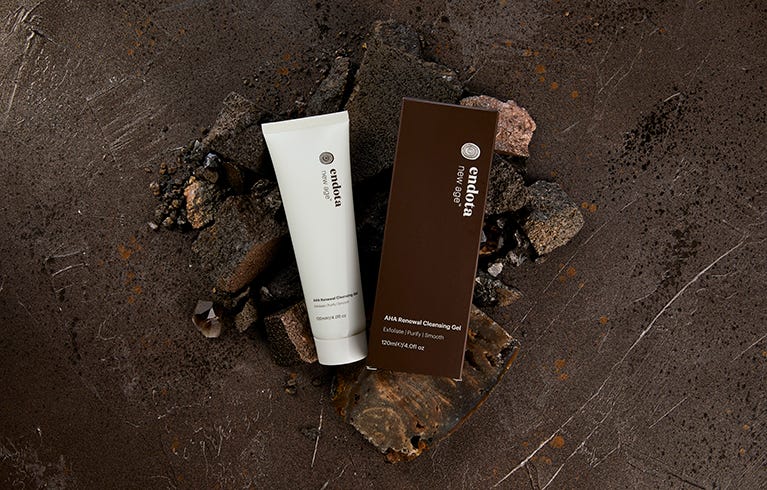 endota spa New Age™ AHA Renewal Cleansing Gel
Anyone who's ever been slightly too heavy handed with the actives will know that, while they can offer remarkable results, too much of a good thing can lead to a red, dry or burnt complexion. Maintain equilibrium easily using endota AHA Renewal Cleansing Gel – a lightweight, foaming option that utilises glycolic acid to break down dulling cell build-up and thoroughly clean out those pores. In addition, wonder-ingredient Propanediol pulls both active ingredients and water into the skin while soothing irritation, resulting in a soft, supple finish. A summer essential.
Step two:


Enlist a mist – it does more than you think
---
Feeling flushed? A calming spritz can work wonders on hot days. Not to be confused with toner (mists are more nourishing and used to boost skin health rather than whisk away traces of cleanser or make-up), the right face mist can "cool the skin, eliminate excessive sweating, and help keep the skin clean and clear of harmful bacteria," explains Helen. Another important point, especially for city dwellers: "As we spent more time outside in the warmer months we are exposing our skin to more environmental damage and free radicals," she adds. A smart spritz can help fight for your complexion, too.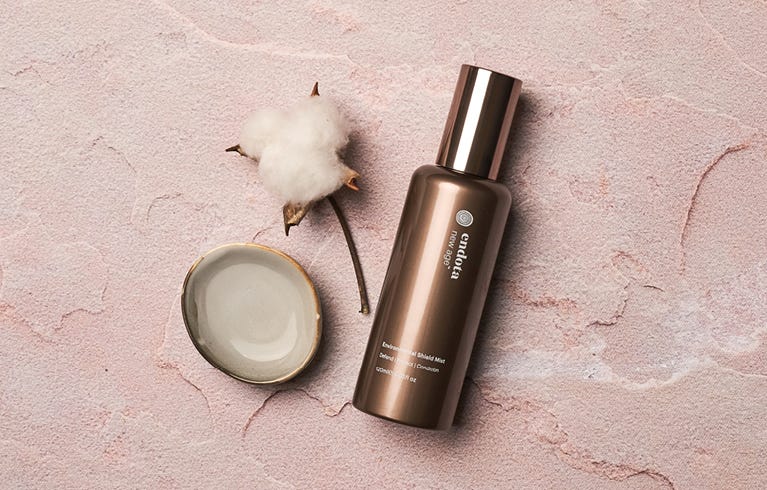 endota spa New Age™ Environmental Shield Mist
All mists are not created equal, though. It's essential to find one with moisturising, calming or soothing ingredients, otherwise those well-meaning sprays can actually dry your skin further. Try endota Environmental Shield Mist, which instantly hydrates, thanks to aloe, witch hazel and Allantoin, and protects your face against daily pollutants - all in one spritz. Apply before your serums to aid absorption, then use throughout the day for a hydration hit. "[It's] a quick and easy way to feed nourishment and much needed antioxidants into the skin," Helen concludes.
Step three:


Invest in lightweight hydration
---
Hot weather may increase shine, but that doesn't mean you don't need just as much hydration to keep your complexion supple, smooth and healthy. Here, serums are key. They deliver nutrients deep down, without any heaviness or excess oil left sitting on the skin's surface. Helen explains, "The active ingredients in serums are formulated to be stable and encapsulated, meaning they are active upon contact with the skin and within the cells where they are needed." This also means you can switch to a lighter moisturiser while ensuring your complexion still receives all the care it requires.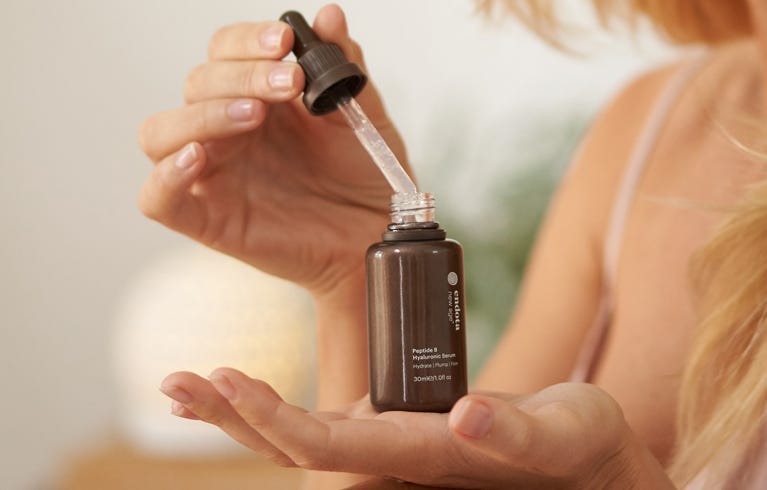 endota spa New Age™ Peptide 8 Hyaluronic Serum

With summer finally here, Helen recommends endota Peptide 8 Hyaluronic Serum, adding, "This powerhouse [is like] three serums in one. Snap 8 peptide works by naturally relaxing the depth of wrinkles and fine lines, hyaluronic acid retains water in the skin providing plumpness and Brightenyl treats underlying pigmentation and skin discolouration." All that in a fresh, fast-absorbing formula means maximum nourishment without weight – ideal for summer skin.
A note on SPF… Just in case you're not already religiously applying sunscreen every day, consider this your reminder to start straightaway. "SPF is important all year round, however we recommend boosting your sun protection come summertime," says Helen. "The sunlight will bring forth more hyperpigmentation and premature ageing if the skin is not protected, so a sunscreen that compliments your skin type should be worn daily." Honestly, it's the best anti-ageing investment you could possibly make for your complexion. And if you're using actives such a retinol and acids, SPF is even more important. Try endota Daily Defence Cream SPF 50+ for high-level protection that sits smoothly over skincare and under makeup. After all, the best sunscreen is the one you know you'll wear every single day.
---
Explore the featured products