Pour yourself a cooling, refreshing cup of this organic peppermint tea to feel calm and centred with every sip. Sourced from the finest Australian organic herbs and packaged into biodegradable tea bags, it's the feel-good way to unwind after a long day.
Details
Refreshing, cooling and wonderfully minty – this organic peppermint tea is our most peaceful blend. Calming in its aroma and flavour, it's a delicate cup of tea that can help soothe stress, relax your muscles or even care for a queasy tummy.
Perfect for after dinner moments or before bed rituals, this caffeine-free peppermint tea is sourced from the finest Australian organic herbs and packed with powerful antioxidants to help strengthen and support your immune system. You'll find 15 unbleached and biodegradable tea bags inside of this eco pouch to enjoy whenever you need to feel calm and content.
Key Ingredients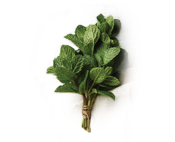 Peppermint
Deep cleansing peppermint oil cools the skin and its refreshing fragrance enlivens the spirit.
the ritual
Steep tea bag in boiling water for up to 5 minutes. Prefer a stronger brew? Just keep it in longer.