What is perimenopause? What to expect and how it affects your body
---
Perimenopause is the period in which your body starts transitioning towards menopause and ending the reproductive chapter of your life. During this time your ovaries are starting to run low on eggs, causing your hormonal production to slow, which often results in an irregular or unpredictable menstrual cycle*.
This phase varies according to the individual, but can begin at any stage from your late 30s to your late 50s, and can last anywhere between a few months to a few years.
This article was written using resources sourced from Jean Hailes, a national non-for-profit organisation who work in the public health, research, clinical services and policy spaces. They are dedicated to improving the health of Australian women through every life stage.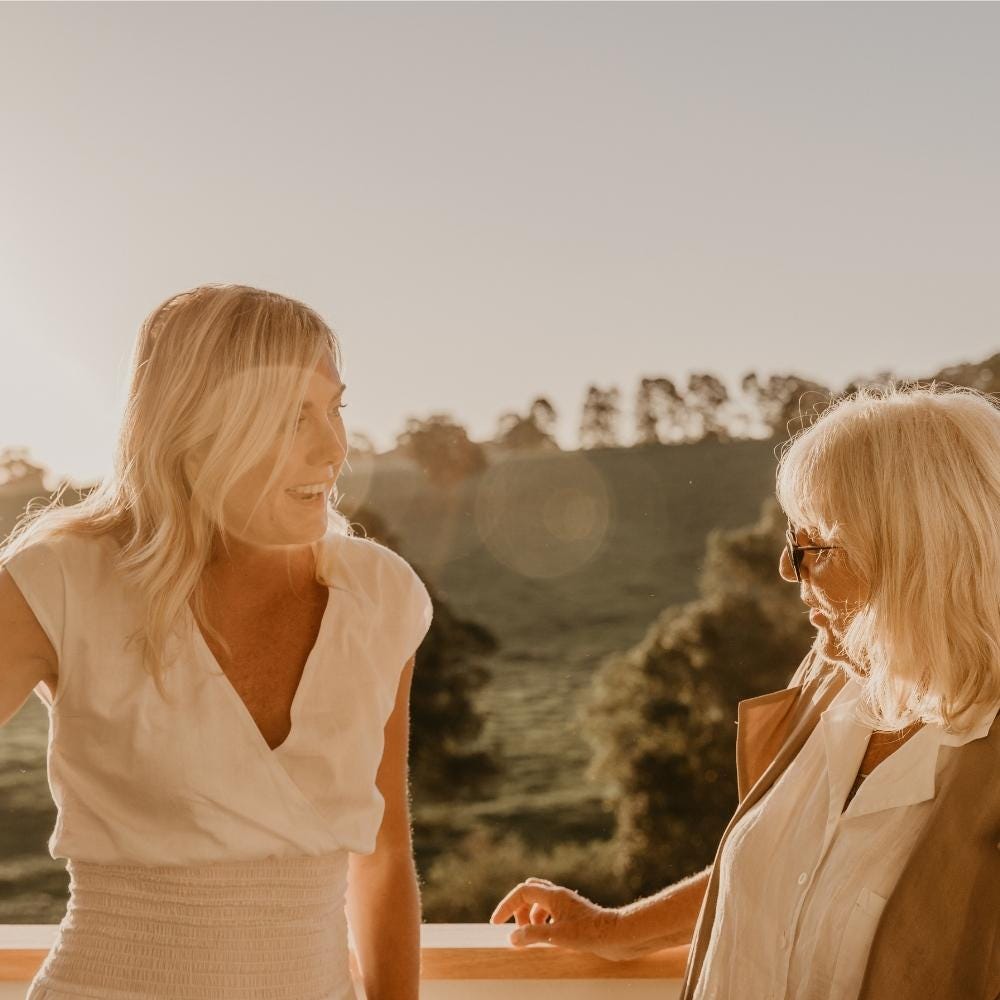 What are the signs?
---
Every woman will have a perimenopausal experience that's unique to her, but telltale signs are irregular periods, hot flushes, night sweats, insomnia, vaginal dryness and mood changes*. Other women might notice hair thinning and changes in the skin (from experiencing dryness to breakouts).
This all happens when your oestrogen levels begin to decline and the body is adjusting to changing hormone levels.
How to navigate the transition
---
While a lot of what happens to our minds and bodies during perimenopause is out of our control, there are some practices you can integrate into your routine to help ease symptoms as you transition through this stage of your life.
Mindful movement
With fluctuating hormones and changes in your body often bringing stress, mindfulness and gentle movement can help bring calm to your mind and body. Make an effort to walk in nature, write in a journal, or take part in a weekly yoga or pilates class. Guided meditation is another useful tool to rely on when you're wanting some time to shift focus.
Set up for sleep success
Disturbed sleep, whether from hot flushes or general restlessness, is one of the most common perimenopausal symptoms. Developing a soothing pre-bed routine is an easy way to improve sleep quality. Take a shower, limit screen time, sip on a warm cup of tea (passionflower and chamomile blends will help to soothe), and take in a few deep breaths of the Sleep Sound Roll-On before you get into bed – its essential oil blend of lavender and valerian promotes feelings of deep relaxation, which is a great start to a good night's sleep.
If you want to further quiet your mind, try a guided meditation. Quick Wind Down is one of our favourites to calm and soothe the mind.
Amp up the hydration
Skin dryness is another perimenopausal symptom that can occur as dropping hormone levels decrease oil flow to the epidermis. Our Intense Moisture Mask is like a tall drink of water for your skin, designed to quench parched complexions with a blend of organic oils, omegas and vitamin C. Try applying a thick layer to clean skin before bed as a nourishing overnight treatment. Hydrating your body from within will also benefit dry skin, with the recommended intake for women to be between 1.5-2 litres of fluid per day*.
Relieve discomfort for delicate skin
This decreased oil flow to your skin can also cause vaginal dryness (or vaginal atrophy), experienced by many women during perimenopause. Our Intimate Moisturising Gel was created with this in mind using aloe vera and chamomile to gently hydrate the delicate skin of the vagina without causing stickiness. Natural hydrocolloids gently hold onto the labia and release water, providing long-lasting moisture to help relieve discomfort caused by vaginal dryness.
Keeping cool, calm and collected
Hot flushes are another common occurrence during perimenopause. While largely caused by hormone changes, there are also some environmental triggers such as alcohol, sugar, caffeine, warmer temperatures and stress, that can contribute to this symptom. Limiting exposure to these known triggers and finding methods that can help you lower your cortisol levels, such as emotional freedom tapping, can help to reduce discomfort experienced during hot flushes. Wearing layers of clothing that can be easily removed when you are experiencing a hot flush is also a useful tip.
---
To learn about the next phase, menopause, from Women's Health Specialist, Sanda Cabot, read our blog.
*According to Jean Hailes For Women's Health