Organic Passion Flower & Chamomile Tea
Sourced from the finest Australian organic herbs, these eco tea pouches contain loose leaf tea contained in unbleached, biodegradable tea bag paper. Packed as 15 individual serves.
Steep tea bag in boiling water for up to 5 mins. The longer the steeping time the stronger the tea.
Organic Chamomile, Organic Passionflower, Organic Lemon Balm
Ingredients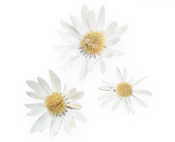 Chamomile
A naturally calming extract that can help soothe sensitive or dry skin.